Healthy produce can be difficult to obtain for many Torontonians.
In some neighbourhoods, going grocery shopping requires more than a one-kilometre walk to the store. In others, fruits and vegetables are simply too expensive for local residents.
And it's looking for help to reach more people. The non-profit is currently seeking funding for someone to drive the bus, as the current driver has to be shared with its other programs.
Check out photos of FoodShare Toronto's Mobile Good Food Market Bus: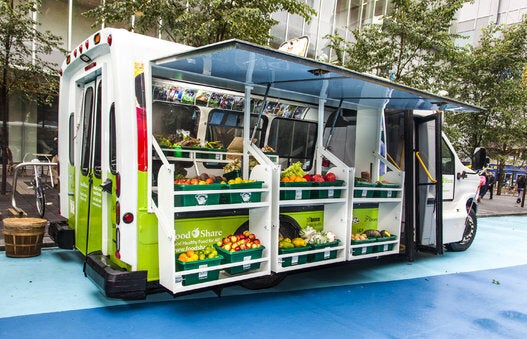 FoodShare Toronto's Mobile Good Food Market Bus
The idea for the bus came from Barbara Emanuel, manager of the city's Toronto Food Strategy. Inspired by Chicago's "Fresh Moves," an initiative that brought groceries directly to communities on a public bus, she thought a similar program might work in Toronto.
And FoodShare, a non-profit that works to relieve hunger throughout the city, was chosen as project lead, said Afua Asantewaa, coordinator of its Mobile and Good Food program.
"Once the rent, once the bills are paid, produce is the last thing on their mind," Asantewaa said of low- and fixed-income communities where healthy food is difficult to access.
"When I did community meetings to introduce residents to the project, one of the things I consistently heard was that, they can't afford the produce at the grocery stores because it's too expensive, so they live on starch."
A lack of access to healthy food can also lead to obesity, she said, and there are statistics to back up her claim. Families around the world have cut their food budgets since the 2008 recession, which has motivated them to buy "lower-priced and less healthy foods," said an OECD report released earlier this year.
Commissioning a full-sized bus did not work out for the non-profit, as there wasn't enough space to accommodate one in its rented facility. Instead, the TTC gave them a decommissioned Wheel-Trans bus, which normally provides transport for people with disabilities.
FoodShare worked with Crew Chief Conversions, an engineering company, to convert the bus into a vehicle for transporting food. They removed the seats and installed shelves on the right side of the bus that would allow people to shop inside and out. It began operating in 2013.
FoodShare Toronto initially hoped to run the bus year-round, but that proved difficult when the polar vortex hit last winter. Both doors of the bus need to be open at the same time in order for people to circulate through.
"We'll have real iceberg lettuce," Asantewaa said, laughing.
The food itself is sold at a 20 per cent markup, which is less than the 30 to 100 per cent you'll see at grocery stores, she added. That "generally" keeps it cheaper than what you'll find in the produce aisle. Produce comes from farmers and the Ontario Food Terminal, a distribution centre.
The bus always operates at loss, with money from the markups covering gas and other expenses.
It primarily travels to communities where residents include seniors and low-income families. North Toronto's Lawrence Heights, and Scarborough's Mornell Court and Tuxedo Court areas have all seen visits from the mobile market.
If the program can reach more people, Asantewaa believes that funding could lead to cost savings elsewhere.
"If we are able to get them using more fruits and vegetables I'm quite sure that's going to have an impact on lowering the cost of our health care service," she said.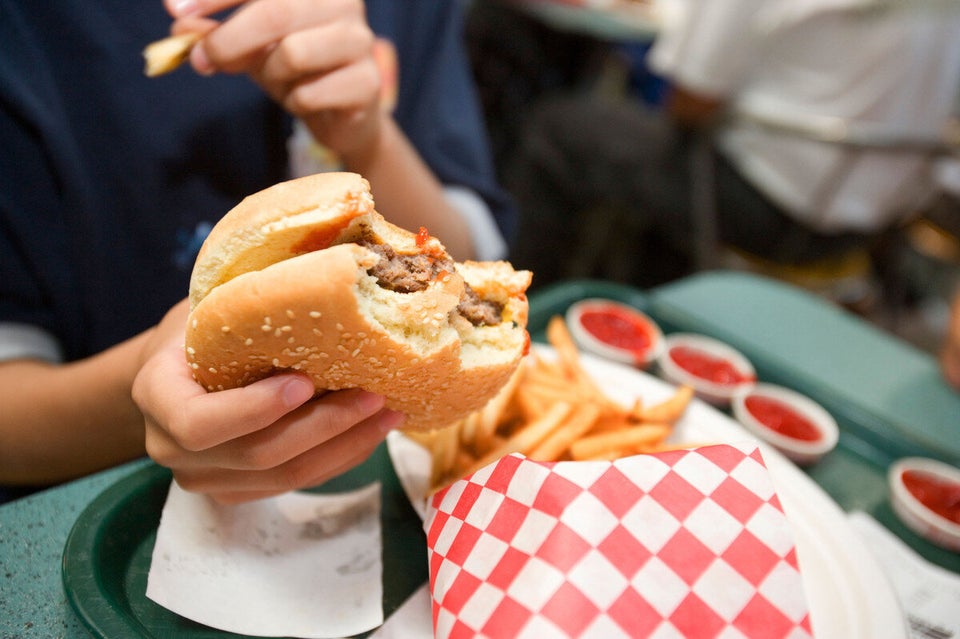 Facts About Childhood Obesity