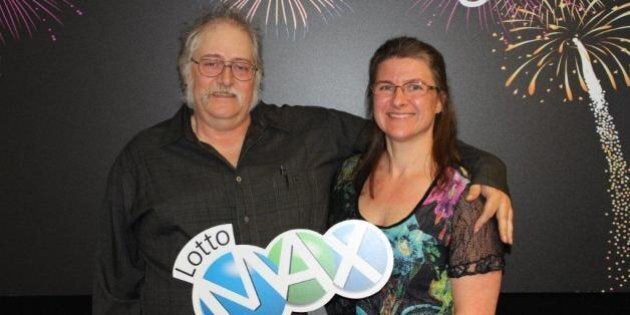 ST. ALBERT, Alta. - If Bill and Andrea Groner tell you they can keep a secret, you can take them at their word.
For seven months, the Edmonton couple hid the fact that they were the winners of the second-largest lottery prize ever awarded in Alberta. On Tuesday, they finally came forward with the news that they held the ticket worth $50 million.
"Do you ever play poker?" asked Andrea, 47, at a news conference announcing the win. "You never give up your secrets.
"We had to maintain a normal lifestyle until we got all our ducks in a row that we had to take care of in our own lives. We had to make sure those were underway first.
"Things were going to get even crazier than we needed them to be at that time. We just chose not to discuss with people until we knew where we had to be and what we had to do to get our life in order."
The winning numbers were for the Lotto Max jackpot of Dec. 20. Lottery officials went to the news media in June to say the huge prize hadn't been claimed and to remind the winners they only had a year to do so. They also urged people to check for any wayward lottery tickets that may have been tucked away. A buzz grew around who the mystery winners could be.
In reality, the Groners had been aware of their good fortune since two days after the draw. Andrea realized that she and Bill had won when she stopped at a shopping mall to check the ticket at a self-serve scanner.
"I should have had my glasses with me," she recalled. "I had to get the retail clerk to tell me what was said on the self-scanner.
"She was more excited than I was. I was in disbelief."
The cautious couple, who said they prefer to keep their family out of the limelight, decided they'd allow themselves one celebratory dinner. They let a few close family members in on the financial tsunami that had just washed over them and then resumed their normal lives.
"We carried on with life, day-to-day," said Andrea.
"We'd talk. We've got our whole lives to decide what we're going to do with the win."
While they did that, Edmonton media were asking the question: Who are the mystery winners?
"We would be sitting at home, watching the stuff on the TV and we'd say, 'We're right here.' But you guys never picked up on it," Andrea laughed.
Now that the word's out, friends will be able to make sense of certain comments made over the last few months, Bill said.
"A lot of jokes will make sense to them now."
Bill, 54, retired late last year from his job as a heavy equipment operator. Andrea had planned to retire this December from her job as a project co-ordinator at an electrical firm and still plans to work until then.
They'll stick to their careful ways, they said. There are friends, family and charities they'd like to help out, but they want to make sure they're doing the right thing before they make any moves.
There is, however, one treat that's on the agenda.
"We still have to go on a honeymoon," said Andrea. "Married 25 years, we haven't been on a honeymoon yet."