For years the Bloomberg new service has run Bloomberg Terminal, a computer system that gives users access to enormous amounts of real-time data on financial markets.
It costs $20,000 U.S. per user per year to subscribe, and it's one of the main reasons Michael Bloomberg is the eleventh-richest American. Most of his company's $7.9 billion in annual revenue comes from those machines.
But with a $20,000 price tag, you can be sure the people accessing it have money (except for maybe, ahem, financial journalists) and so it makes sense that the terminals have become a venue where the ultra-rich do their buying and selling.
This Buzzfeed article went viral this past week, highlighting the amazing things super-rich Bloomberg Terminal users are selling on one of these social sites. POSH, as it is called, is the service's "Craigslist-like" classified ads section.
Subscribers can buy everything from from a $20-million Italian castle to a $40,000 "dressage horse."
Well I never.
Business Insider laid open Bloomberg's Craigslist-like service a few years ago, taking readers through the user experience.
Here is the entry page: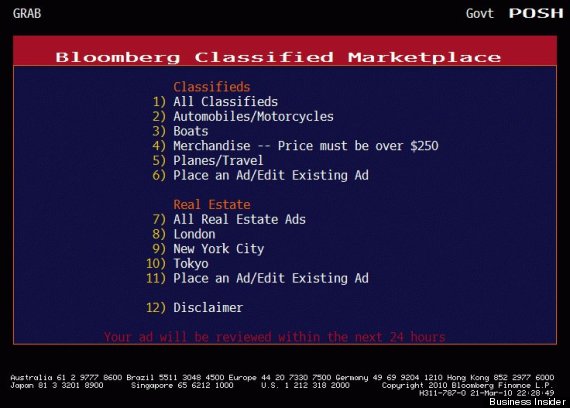 Click on a category and it takes you to a listing of classified, pretty much like Craigslist: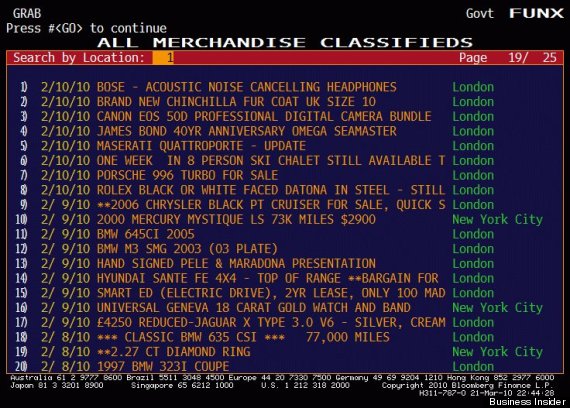 But according to those in the know (i.e. those with a subscription), Bloomberg Terminals have more than just a "secret Craigslist."
There's also MLUX, an online store for luxury goods, and PEOP, or People, which is a LinkedIn-style social site for Bloomberg Terminal users.
And finally there's DINE, which "is basically Wall Street's Yelp. Get reviews on loads of restaurants, especially high end spots," Business Insider reported.
So it seems even on the internet, the rich have it better.
(H/t: Buzzfeed, Business Insider)