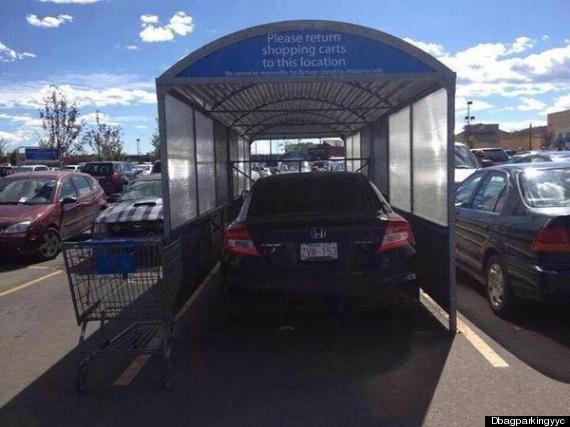 Not everyone is great at parking. But consider this a warning to brush up on your skills.
Inconsiderate drivers in Calgary and Edmonton are being shamed online for their terrible parking jobs, one tweet at a time.
Twitter accounts @DBagParkingYYC and @DBagParkingYEG are sharing photos of people's parking lot crimes, in an attempt to draw attention to how poor parking decisions affect others.
Some pictures show luxury cars in handicap stalls. Others show massive trucks taking up as many as four spots.
The man behind the accounts, Edmontonian Brian LaBelle, told Metro News his efforts are causing some reconsider their uncivil parking habits.
"We've gotten quite a few people telling us, 'I re-parked my car three times today because i was worried about ending up on this website.'"
"So, there are people that are changing their habits and paying attention to it out of fear of having their vehicle posted."
Check out some of the worst offenders, by category, below:
FOUR STALLS, DON'T CARE
"No problem Mr. Obama! Of course you can use 4 stalls to run in & negotiate a ceasefire, you're the president!" #YEG pic.twitter.com/X9R9wbQmuu

— YEGs Worst Parking (@DBagParkingYEG) July 23, 2014
Here's a 4 stall winner at the #StAlbert Earl's. pic.twitter.com/23JEaKGVHb

— YEGs Worst Parking (@DBagParkingYEG) July 9, 2014
D-Bags of a feather... RT "@BuhlerFerris: Went into the store and there was one dbag. Then there were two!" pic.twitter.com/yQB7oGhItP

— YEGs Worst Parking (@DBagParkingYEG) July 8, 2014
OH, THE IRONY
Like a douchebag, HOWYROL. You roll like a douchebag. #YEG #YEGTraffic pic.twitter.com/dxg38Ow3RV

— YEGs Worst Parking (@DBagParkingYEG) July 22, 2014
It's definitely appropriate. RT "@lucky644: @DBagParkingYEG Good license plate. pic.twitter.com/Zw5HQSH82c"

— YEGs Worst Parking (@DBagParkingYEG) July 24, 2014
I'M TOO IMPORTANT TO FOLLOW THE RULES
"Where we're going... (The Keg on 170th) We don't NEED roads." -Doc Brown, just before heading in for a steak. #YEG pic.twitter.com/H4JfaXVjpg

— YEGs Worst Parking (@DBagParkingYEG) July 20, 2014
I might start calling a car in 2 spots a mid-life crisis stall. What do you think? #YEG #YEGParking #YEGTraffic pic.twitter.com/kb0lxAtrhp

— YEGs Worst Parking (@DBagParkingYEG) July 7, 2014
This douche canoe was spotted thinking he was important in the Cowboys underground parking garage. #YYC #YYCTraffic pic.twitter.com/hIg2qXYKaq

— YYCs Worst Parking (@DBagParkingYYC) July 25, 2014
If you can't read a giant handicapped parking sign, I don't know what you're going to do with a new Fish Finder? #YEG pic.twitter.com/40GOWgVouu

— YEGs Worst Parking (@DBagParkingYEG) July 21, 2014
TOTAL CHAOS
VIP Parking for Chuckwagons at the #Stampede. #VeryIncompetentParking #YYC pic.twitter.com/BrjhqlNTRg

— YYCs Worst Parking (@DBagParkingYYC) July 25, 2014
No parking at Mill Creek pool? No problem, just park wherever the Hell you feel like. It's cool. #YEG #YEGTraffic pic.twitter.com/rnXpW5rJfQ

— YEGs Worst Parking (@DBagParkingYEG) July 10, 2014
PLAIN IGNORANCE
Nailed it! & by "nailed it", I mean this Nissan Frontier outside @TheCDNBrewhouse on Ellerslie nailed this sign #YEG pic.twitter.com/KKKe4n9Lpt

— YEGs Worst Parking (@DBagParkingYEG) July 5, 2014
RT "@MsCrisis: Idiot parked at a bus stop on Whyte. Bus scraped her paint trying to pull out and SHE is mad." #YEG pic.twitter.com/zkred8ho3f

— YEGs Worst Parking (@DBagParkingYEG) July 17, 2014
"Well look at that, Wal-Mart built me a nice covered stall so my vehicle doesn't get too hot. How considerate!" #YYC pic.twitter.com/mbeOSXiWpx

— YYCs Worst Parking (@DBagParkingYYC) July 25, 2014
West Hills/Signal Hill -buddy didn't have a placard to park there so he thought he'd be sneaky and take out the sign pic.twitter.com/jeQ0RDiosT

— YYCs Worst Parking (@DBagParkingYYC) July 25, 2014
I bet if the owner of this business off Whyte had put up 4 signs instead of only 3 the driver would've noticed. #YEG pic.twitter.com/fEKKHqfJgB

— YEGs Worst Parking (@DBagParkingYEG) July 14, 2014
NOT SO SMART, AFTERALL
There should be a law against owning a "Smart car" if you are this dumb. #YYC #YYCParking #YYCTraffic pic.twitter.com/5DetO4TKQM

— YYCs Worst Parking (@DBagParkingYYC) July 25, 2014
And, finally: THE WORST OF THE WORST
Really? You need both of those extra wide handicapped stalls at Costco South? #YYC #YYCParking #YYCTraffic pic.twitter.com/mzrFuA2GgO

— YYCs Worst Parking (@DBagParkingYYC) July 3, 2014
Didn't think we'd get another truck parked across 3 handicapped parking stalls. But clearly, I was wrong. pic.twitter.com/48BO2RyTYW

— YEGs Worst Parking (@DBagParkingYEG) July 14, 2014
These ladies needed 2 handicapped stalls to take a call while waiting to pick up their new glasses. #YEG #YEGTraffic pic.twitter.com/hNgQgX7M1Z

— YEGs Worst Parking (@DBagParkingYEG) July 10, 2014
Like Us On Facebook

Follow Us On Twitter
Also on HuffPost
Funniest Bad Parking Notes