The Canadian Museum of History may soon find itself competing for visitors with Tim Hortons as the chain readies to open an homage to its past.
An upcoming redevelopment of the coffee and doughnut giant's first restaurant in Hamilton, Ont. will see it turned into a two-storey building with a museum-like portion that will show items from the 50 years it has spent in business, The Toronto Sun reported.
"It will pay homage to our history while embracing some of the new designs," Tim Hortons chief operating officer David Clanachan told a crowd of employees and Hamilton residents at the Thursday announcement.
Here are some renderings of the redeveloped Tim Hortons location in Hamilton: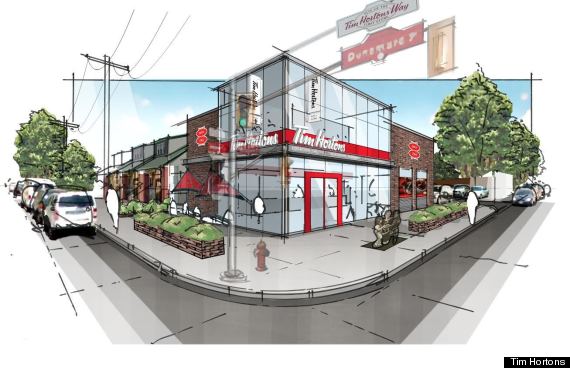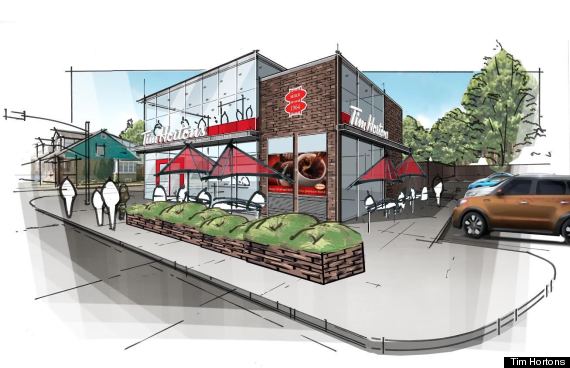 The new restaurant will be designed with a glass cube, but it will also have more conventional traits like its original brick colour, steel railings and "retro" red seats, CBC News reported.
Patrons won't be walking into a replica of its first coffee shop, but the museum will nevertheless give them a chance to travel through time, as its collection of memorabilia is being relocated from the company's head office in Oakville, Ont.
"We think [the memorabilia] belongs here," Clanachan said.
News of the redevelopment comes after Tim Hortons revealed a concept store in the Metro Toronto Convention Centre earlier this month.
That location will give people an idea of what its stores might look like in the future. Offerings include beer inspired by Tim Hortons coffee, touch screen menus and a grab-and-go area for sandwiches and other items.
Check out some photos of Tim Hortons over the years:
50 Years Of Tim Hortons (2014)
Like this article? Follow our Facebook pageOr follow us on TwitterFollow @HuffPostCanada