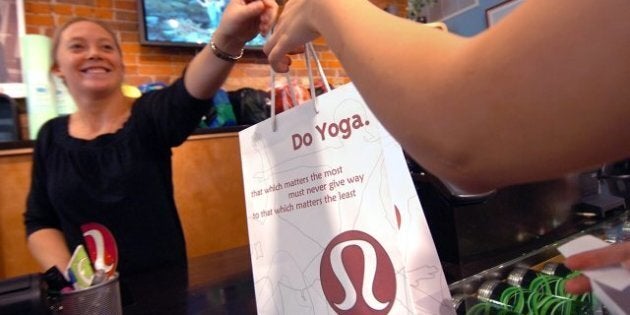 The fashion industry has never really been big on patent lawsuits. In fact, they barely exist, but yogawear maker Lululemon is working to change that.
The company has taken the (so far) unusual move of taking out patents on its clothing, and suing competitors it says infringed on those patents.
One of those patents is reportedly involved in a recent dispute with underwear maker Haneswear. Lululemon filed a suit against Haneswear last year over what it argued was a copycat of its tank top with a built-in bra.
Lululemon's lawyer sent a letter to Haneswear giving the company 15 days to stop making and selling the product, and to issue a joint statement jointly with Lululemon, advising customers to shop at Lululemon if they like that style of clothing.
Otherwise, Lululemon would launch a lawsuit "possibly in two separate countries," the letter stated.
Haneswear countersued, challenging Lululemon's patents as vague. According to Buzzfeed, the companies settled out of court. No details on the specifics of the settlement are available.
It all began when Apple sued Samsung several years ago for design patent infringement involving their smartphones, Mark Sunderland of Philadelphia University's School of Design and Engineering told Buzzfeed.
That lawsuit got many business leaders interested in the potential of design patents. Most patents have traditionally been "utility patents" that focus on what a thing does; design patents are about the look of an object, which makes them harder to pin down, and potentially more legally problematic.
Shortly after the Apple-Samsung lawsuit, Lululemon sued Calvin Klein over the yogawear maker's "Astro" pants, unofficially launching the era of fashion-wear patent lawsuits.
Like the Haneswear lawsuit, that one was also settled out of court.
Opinion is split on what Lululemon's strategy means for the future of the fashion industry.
The Medical Daily blog warns Lululemon's move could be the beginning of the "monopolization" of the industry.
But others see it as a positive. Christina Chalmers, a well-known blogger and Lululemon fan, says Lululemon is simply protecting her "investment" in their clothes.
"It pushes other brands ... to innovate rather than copy," she writes.