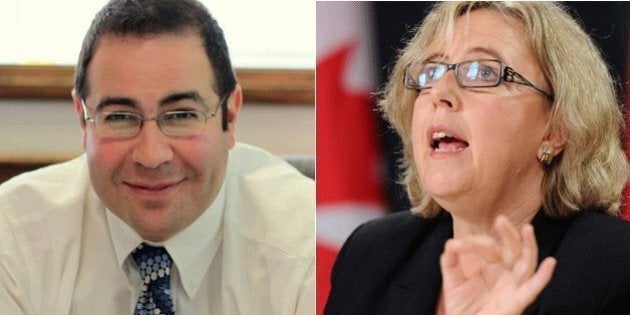 Elizabeth May says a controversial blog on the Gaza conflict, written by the president of the Green Party of Canada and posted to its official website, conflicts with the party's position on the crisis.
On Friday, an article by Paul Estrin — Why Gaza Makes Me Sad — was posted to the blogs section of the Green Party website and shared on his official Facebook page.
Estrin says in the article that the views expressed are his own and do not necessarily reflect the membership or direction of the party. Yet, according to iPolitics, his original post made no distinction between his personal views and those of his party.
In the long post, Estrin argues that while many are vilifying Israel, the country is doing all it can in an"untenable" situation and is still feeling the "world's hate."
He writes that military experts concur that the Israeli military, through its use of "pinpoint strikes whilst warning the enemy in advance," is actually "the most moral of them all."
"Gaza is giving children grenades … and asking their citizens to be sheep to the slaughter," he writes. "Gazan officials tell their people to be killed while they hide in bomb shelters. Cowards? No, this is worse than cowardice. It is vile and ugly and they should be put to shame. Instead, it is Israel who is put to shame."
Estrin concedes that with the hundreds of Gazans killed and thousands injured, the situation "looks very bad for Israel." But Estrin maintains that Israel is doing all it can to protect the lives of civilians.
"We want to see the world as black and white, right and wrong. We want to support the under-dog. Who doesn't. But, terror is terror. Evil is evil," he writes.
Estrin calls on the "green movement" not to support the Hamas-led government in Gaza that he says uses money and resources intended for things like schools and infrastructure to buy weapons and create "tools for terror."
"Yes, their flag is green, but that is where the resemblance stops. Or at least, that is where it should stop," he writes.
The post appears to have enraged some card-carrying Green members.
"I was never expecting to hear such propaganda from the President of the Green Party. I guess I was wrong," wrote one commenter. "You certainly don't reflect my values as a Green or as a Jew."
"I am shocked, disheartened and disappointed with your position on the atrocities being committed against the Palestinian people by Israel," wrote another. "I can no longer support the Green Party if this is their position."
A moderator later posted above the blog that it does not reflect party members or policy and shared a motion from the Green convention weeks ago calling for the "cessation of hostilities" between Israel and Palestine.
The GPC will adopt a posture of engaged neutrality, opening all available diplomatic avenues in both Palestine and Israel to press for a peaceful resolution to the conflict consistent with the GPC's commitment to justice and custom of speaking truth to power.
IPolitics columnist Andrew Mitrovica wrote Monday that Estrin's letter was "outrageous," and called out the Green party president for suggesting "Palestinian children are, in part, responsible for their own deaths."
On Monday, May addressed a number of questions about the post on Twitter and made it clear she doesn't agree with the position of her party president. She also said such posts are not screened in advance and that any party member can express his or her views on the site, free from censorship.
But not everyone was put off by Estrin's post, with some suggesting online he deserves praise.
What are your thoughts on Estrin's article? Tell us in the comments and please keep the conversation respectful.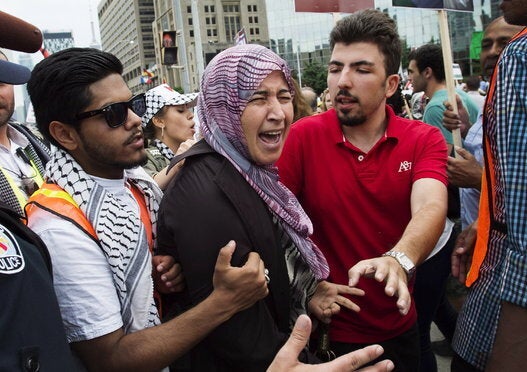 Gaza-Israel Rally At Queen's Park, Toronto