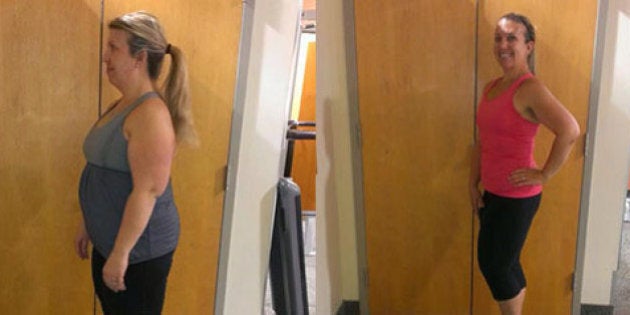 By The Numbers: 222 at my heaviest, currently 172, for a total weight loss of 50 pounds
The Weight Gain: I was always a little overweight as a child and into adulthood as well. It had been up and down for a while, but in the fall and winter of 2013, I really started to gain more and more weight. By that point, I also had tried many diets over the years, but none of them were effective.
The Final Straw: I wanted so badly to fit into my clothes again and just feel like myself. I would think about it constantly and knew that I had to take action. I wouldn't say there was one final straw, but I just knew what I had to do to make myself happy. I picked a date and stuck to it.
Story Continues Below. Check out more of our inspiring weight loss stories: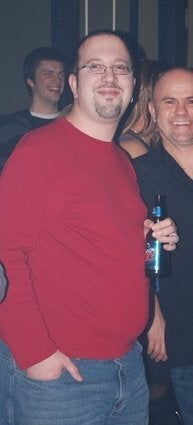 Lost It: Weight Loss Success Stories
The Plan Of Attack: I started working out again and started going back to a fitness bootcamp called Go Girl Bootcamp in Markham, Ont. I began doing three to four days there and three days on my own time. I also put myself in the nutrition plan that they gave me. I started going in March of this year and I've lost 50 pounds in five months.
The Food Element: I eat a very simple clean diet with lots of lean protein, vegetables, healthy fats and organic fruit. I gave up all the awful foods I was eating on a daily basis like pizza, fried food, most breads, sugar, ice cream and the list goes on. However, that's not to say I never have those things on occasion, because I definitely do.
Getting rid of carbs and sugar was very hard. Sugar is most definitely an addiction, but now it's just routine and super easy to not have it every single day.
The Exercise Factor: I was already a member of a local gym so I just returned to work out there as well as join the trainers at Go Girl Bootcamp. Before exercising, my fitness was horrible. I could not even run for two minutes on the treadmill or do a single push-up. When it came to making goals, it really just started with wanting to feel better and lose some weight. I really didn't have a number in mind at first, but as I started to lose weight, I just wanted to keep working harder and harder.
I currently go to Bootcamp about four days per week and I also run about three times per week.
The Current Day-To-Day: My days are much easier with all this weight gone, since I'm around young children at work — I'm so happy I can keep up with them all day now! I am sticking with my nutrition plan and in my mind this journey has only just begun.
I'm proud of the fact that even though I had gained weight and felt ashamed, I was able to get up and get to work. Sometimes the hardest part is getting back up after you fall down, but it just takes that one time of trying again.
My advice? Don't give up. No matter what. It's so easy to have a bad day and throw in the towel or not see results fast enough and quit. I have been there, keep going.
Have a success story of your own? Send it to us at CanadaLiving@huffingtonpost.com and you could be featured on the site!