Everything is bigger in America. No seriously, look at the size of this disgustingly large burger.
A post on Philadelphia's PYT restaurant's Facebook page — also known as "America's Craaaziest Burgers" joint — features this meaty beast of a burger made up of a doughnut, cheesesteak and look, more cheese.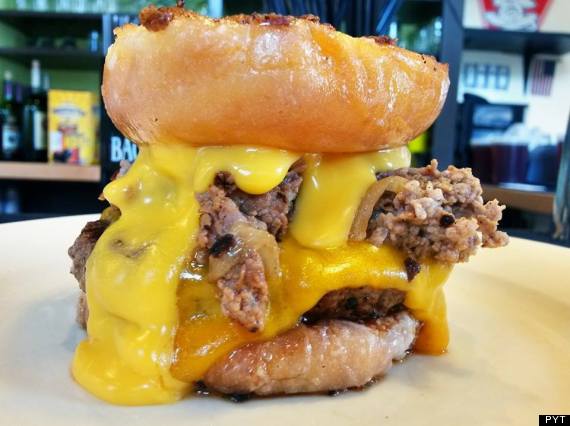 According the Daily Mail, the restaurant added this new menu item simply because of their location.
"Our hometown Philadelphia is the home of the famous Philly Cheesesteak, and living here we are surrounded by cheesesteaks. We live and breathe the cheesesteak," he told the paper.
The burger costs $15, is made up of 1,400 calories (yikes) and will be on sale for the rest of the summer.
PYT has also come up with other crazy burger concepts, including the Hot Pocket Burger, Chicken Bacon Eggo Sliders and the Taco Bun Burger (which is basically a burger with condiments stuffed in between two stuffed tacos). Loco!
In Canada, a Krsipy Kreme doughnut burger was introduced at the Canadian National Exhibition in 2011, and just last year, we also got a taste (and a few people got sick) of Toronto's very first cronut burger.
Would you eat it?
Also on HuffPost
Fast Food Items With 1000 Calories Or More