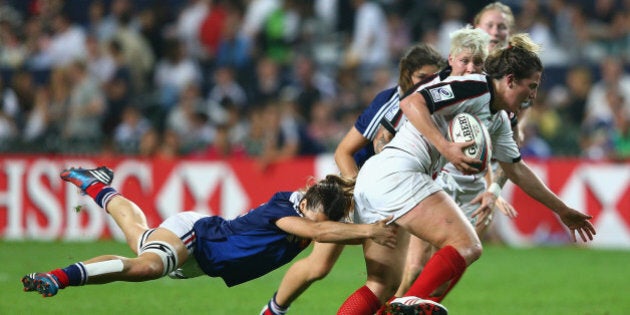 Kelly Russell knows younger sister Laura is never too far behind her on the rugby pitch. And that's good news for Canada.
Kelly, who plays No. 8 at the back of the scrum, is captain of the Canadian women's team. Younger sister Laura is a prop, plying her trade at the forwards' coal face.
"We know each other's tendencies on the field so it's always great to play with her," said Kelly, who at 27 has two years on her sister. "She's a hard worker, so anywhere I'm around the pitch she's there too. I always know she's got my back."
Kelly Russell has 24 more women behind her as Canada gears up for Friday's Women's Rugby World Cup opener against Spain in France.
A quiet leader, Russell has the respect of her Canadian crew.
"Kelly's amazing," said veteran centre Mandy Marchak. "She's very focused, very strong-minded. She understand what it is to be a part of such a big team and she leads by example. She's quiet but when she speaks, it speaks volumes. She backs everything she says by how she plays.
"She's very strong on the field — individually and for the team. She's a really important part of the team. Kelly and I have been friends for a pretty long time and (she's) somebody I look up to."
Marchak and Russell share a moment before each game.
"Something I feel I personally have shared with Kelly throughout the years has been the final minutes before running onto the pitch, I turn to Kelly and she gives me this nod," Marchak wrote in a 2012 blog. "I know this nod very well. It's a nod saying we're ready, we know what we need to do, let's just go out and do it.
"It has actually been the one thing I feel I look forward to, as it calms me and gives me that last ounce of believe."
Russell, who also played in the 2010 World Cup as well as two sevens World Cups, sees good things ahead for this Canadian team which she describes as a mix of experience with "want-to-impress" new blood.
Originally from Bolton, Ont., Russell is one of about 20 women, all tied into the sevens program, who are centralized in the Victoria area. Other players have moved west to train with them.
Part of their regimen involves working with UFC bantamweight Sarah Kaufman at the ZUMA gym in Victoria. Kaufman helps them with condition and grappling — wrestling takedowns are similar to tackling to rugby.
"A real help," said Russell.
Canada, which finished fourth in 1998, 2002 and 2006 and a disappointing sixth in 2010, is in a pool with England, Samoa and Spain. The three pool winners and the runner-up with the best record advance to the semifinals.
New Zealand has won the last four tournaments, defeating England in the last three finals.
The Russell sisters — including an older sibling — followed their father's footsteps into rugby with the Toronto Nomads.
Kelly was 14 or 15 when she took up the sport. Now she leads Canada out on rugby's biggest stage.
"When I started, it was just about playing rugby and trying it out. And I just loved it right away," she recalled. "So the natural progression was just to keep pursuing higher levels."
She got her first cap in 2007 and has 35 going into the World Cup — no small feat considering women's rugby internationals are few and far between.
Named to the 2010 World Cup all-star squad, Russell was named Rugby Canada's Women's Fifteens Player of the Year for 2013.
Canada last faced Spain at the 1991 and 2006 World Cups, winning 79-0 and 19-4.
"We're expecting Spain to play a lot of rugby (Friday) with a lot of ball in play, fast pace and a lot of running, similar to the style we play and they play with no fear," Canadian coach Francois Ratier said in a statement.
"This is the World Cup. And it's important for us to set the tone with a big effort against Spain. We need to focus on our game and don't change our style or philosophy because it's been working — just push up the intensity."
Laura Russell, Toronto Nomads, Bolton, Ont.; Kim Donaldson, Burnaby Lake Rugby Club, Toronto; Hilary Leith, Capilano RFC, Vancouver; Maria Samson, Calgary Hornets, Calgary; Latoya Blackwood, St. Anne de Bellevue, Montreal; Barbara Mervin, Velox RFC, Peterborough, Ont.; Karen Paquin, Club de Rugby Quebec, Quebec City; Kelly Russell (capt.), Toronto Nomads, Bolton, Ont.; Stephanie Bernier, Club de Rugby Quebec, Quebec City; Emily Belchos, Markham Irish RFC, Barrie, Ont.; Julianne Zussman, Town of Mount Royal RFC, Montreal; Andrea Burk, Capilano RFC, North Vancouver; Mandy Marchak, Capilano RFC, Winnipeg; Magali Harvey, Club de Rugby Quebec, Quebec City; Elissa Alarie, Ste-Anne-de-Bellevue Rugby Club, Trois-Rivieres, Que.
Marie-Pier Pinault-Reid, Club de Rugby Quebec, Quebec City; Olivia DeMerchant, Woodstock Wildmen; Mapledale, N.B.; Kayla Mack, Wild Oats RFC, Saskatoon; Jacey Murphy, Aurora Barbarians, Alliston, Ont.; Julia Sugawara, Burnaby Lake RFC, Surrey, B.C.; Brittany Benn, Guelph Redcoats, Napanee, Ont.; Jessica Dovanne, Velox RFC, Victoria.
Head Coach: Francois Ratier