Amanda Greenough wants the whole world to know who she really is.
For years, the 26-year-old former Edmonton Eskimos cheerleader felt she was stuck in a "social prison" as she used a wig to hide her struggle with alopecia, an autoimmune disease that causes hair loss.
But last month, the elementary school teacher and cheer coach doffed her wig for all to see and told her story on Facebook. And in doing so she touched hundreds of people around the world.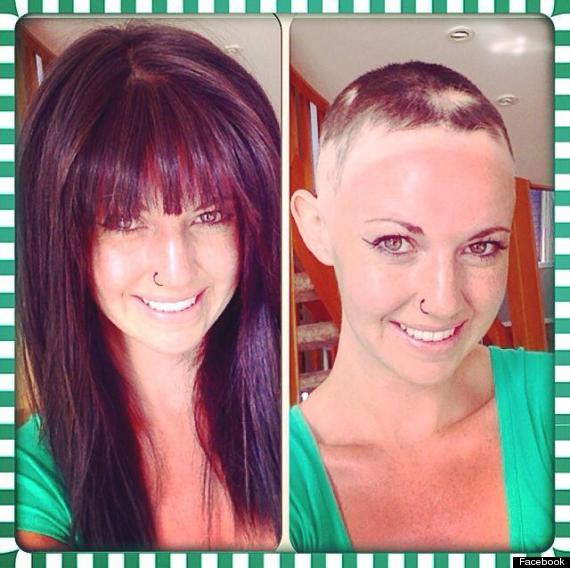 Greenough's struggle with the condition began in London, England approximately three and a half years ago, when she was working as a substitute teacher.
Her hair began falling out in strands, then clumps.
"It wasn't just in the shower," Greenough wrote on Facebook.
"It was whenever I ran my fingers through my hair, or brushed my hair, or put my hair up, or just generally touched my head."
She went to see a specialist when she lost around 30 per cent of her hair. She was diagnosed with alopecia, a disease in which a person's hair root is attacked by their immune system for unknown reasons, according to the Canadian Alopecia Areata Foundation.
Greenough moved back to Edmonton when she lost 80 per cent of her hair. She started wearing wigs and told only a few friends about her condition.
But slowly, she grew tired of hiding a part of herself. She opened up to the girls she coached and they agreed to keep it a secret, The Edmonton Journal reported.
Then, fellow teachers asked who styled her hair, and she admitted she wore a wig due to her condition. They thought it was cool.
One day, she removed her wig while she was on a beach with her boyfriend and another friend, Global News reported.
And that helped her open up on social media, where her story has reached readers as far away as Australia and India.
"For her to have the courage to step out and say, 'This is who I am' ... I'm just really proud of her," her mother Dianne told Global.
Like this article? Follow our Facebook pageOr follow us on TwitterFollow @HuffPostAlberta
Teen With Alopecia Wins Pageant