Toronto's Caribbean Carnival, which almost everyone calls Caribana, is without a doubt the most colourful and extravagant festival the city puts on every year.
The event is in its 47th year, billing itself an "explosion of Caribbean cuisine, music, revelry as well as visual and performing arts."
The parade is the marquee event of the three-week festival and winds along a 3 1/2-kilometre stretch of Toronto's Lakeshore Boulevard.
A spokesman says the festival has improved safety after the death of a Mississauga, Ont., teenager who was run over by a float at last year's parade.
Stephen Weir says the trucks are now equipped with protective skirts.
He says the parade celebrates the end of slavery in the Caribbean, and the simple joy of freely walking down the street.
"It's six to eight hours of people jumping up and waving flags and listening to soca music and steel bands," he said. "It's one of those things you can see it as a thing about emancipation or it can be a thing about just having a good time in the summer in Toronto. Both are equally right."
Check out some of the best photos we've seen so far from Saturday's parade below.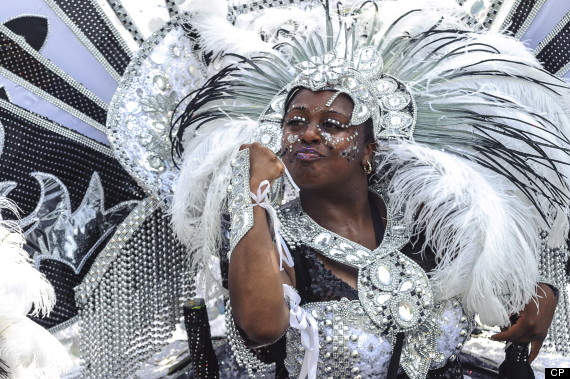 Have you jumped up yet today? Happy Caribana Day!! #Caribana2014 #Canada pic.twitter.com/Rc6V8szX8a

— Andrene Gregory☝️ (@AggieStrong) August 2, 2014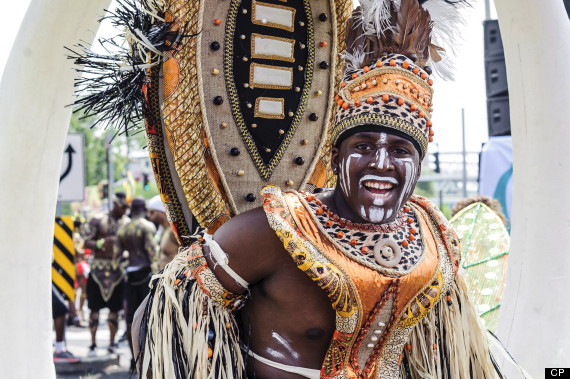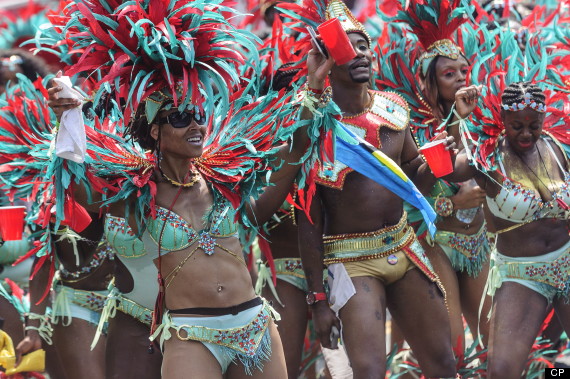 Roz Roach playing "Fireball" gets "ready for de road " #Caribana2014 pic.twitter.com/hpVTJjkfzO

— Cecil Roach (@CecilRoachSO) August 2, 2014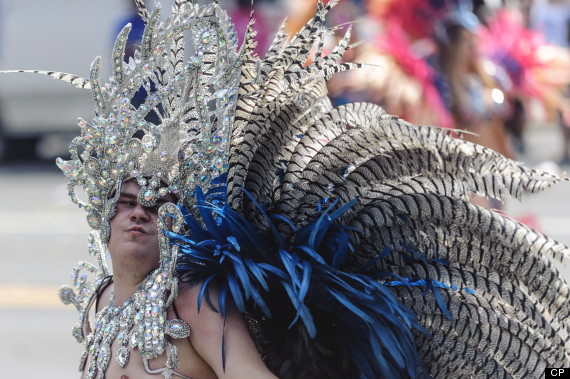 TKS model Miss S in her #caribana2014 glory. Photo by ig'er nonsuch_as_paul pic.twitter.com/tfqNZptjtx

— The Madame (@KeyholeSessions) August 2, 2014
Toronto mayoral candidates Olivia Chow, John Tory, David Soknacki and Rob Ford came out to dress up and, in Ford's case, show off some dance moves.
Ma Dukes and @oliviachow!!! We fetin' or wha?!?! #Caribana2014 #TO #Carnival pic.twitter.com/bo2BdNsUDr

— P C (@pcharles15) August 2, 2014
.@johntoryTO all dressed and ready to go. #caribana pic.twitter.com/LvIxAg9ocZ

— Courtney Glen (@courtneyglen) August 2, 2014
One of us is either over-dressed or under-dressed #TOpoli pic.twitter.com/28BIaCkghs

— David Soknacki (@DavidSoknacki) August 2, 2014
Hey Renata! Here's your man, er your "FAMILY MAN" dancing w a voluptuous chick in #Caribana2014 #TOpoli #heartattack pic.twitter.com/eyBddROFIk

— Martha E. Chaves (@TheMarthaChaves) August 2, 2014
With files from The Canadian Press