You're at a wedding in an idyllic location, with the sun shining brightly and then, you see it. The water in the puddle — it's vibrating.
In a picture that has since gone viral, Toronto-based photographer Adam Biesenthal captured the wedding party for Pamela and Jesse Sargent, complete with a Tyrannosaurus rex and Jeff Goldblum, a.k.a. Dr. Ian Malcolm of Jurassic Park.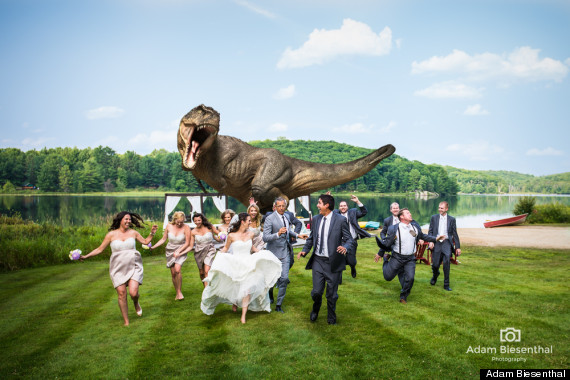 Goldblum's fiancée (as of last week!) Emilie Livingston is close friends with the bride, according to her Instagram page, so it only made sense for the actor to get involved in the wedding party's fun. Well, that, and he's Jeff freaking Goldblum.
The wedding, which took place in the Muskoka region of Ontario over the past weekend, was otherwise scenic, heartfelt and dinosaur-free.
Congratulations to the happy couple, and here's hoping your first anniversary shot will include a Velociraptor and Dr. John Hammond.
Also on HuffPost