Mayoral candidates Rob Ford and Olivia Chow each turned some heads at the Toronto Caribbean Carnival Parade this past weekend, one of the biggest events left in the run-up to the election in October.
Ford undid some buttons, snapped selfies with admirers and danced like his political career depended on it. A recent Forum Research poll suggests Torontonians of a Caribbean ethnic background tend to be among the biggest supporters of the infamous mayor, despite his past racial slurs.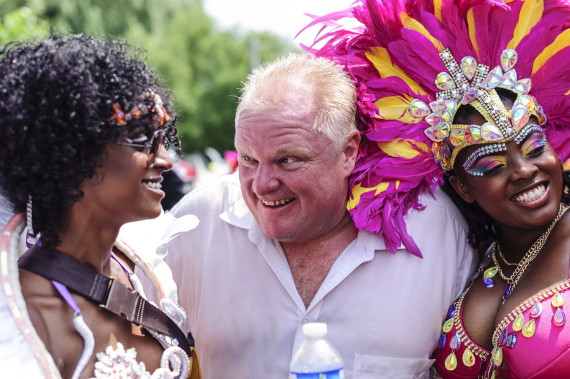 The Canadian Press
But Ford being Ford, there were awkward moments, too.
Oh nothing, just Rob Ford at Caribana. Via @TOMayorFrod) pic.twitter.com/1zQ9uL8iYV

— Bruce Arthur (@bruce_arthur) August 2, 2014
The shot of Ford getting down reminded at least one person of an episode of The Simpsons where Homer cut a rug with a belly dancer.
This image, posted to Imgur on Monday, is now going viral.
Meanwhile, Chow showed she isn't your average candidate by going all in with a colourful costume.
Olivia Chow is our photo of the day http://t.co/REt3oEtIBU pic.twitter.com/N3OXX4gvsC

— blogTO (@blogTO) August 4, 2014
Unbelievable party of colours, costumes and music at #TO_Carnival Parade. pic.twitter.com/Js0ObH8GGG

— Olivia Chow (@oliviachow) August 2, 2014
But while many applauded her online, Toronto Sun columnist Tarek Fatah took to Twitter to accuse her of "crass" politics.
The Mayor we need to lead Toronto should be a consensus-building visionary, not a silly costume-wearing crowd charmer pic.twitter.com/KY9QorcsnP

— Tarek Fatah ਤਾਰਿਕ (@TarekFatah) August 4, 2014
Ward 2 candidate Andray Domise jumped to Chow's defense, informing Fatah that Chow has participated in the parade long before she decided to run for mayor. A Chow supporter even dug up an old photo to prove the point.
@TarekFatah @AndrayDomiseTO Oh, I see you issued a challenge. Feel free to admit you're wrong any time now. pic.twitter.com/V7p0HkNann

— Adam C-F (@AdamCF) August 4, 2014
John Tory also took part in the fun but was a little less flashy than his rivals.
.@johntoryTO all dressed and ready to go. #caribana pic.twitter.com/LvIxAg9ocZ

— Courtney Glen (@courtneyglen) August 2, 2014
And David Soknacki, a self-professed geek, had perhaps the funniest tweet from the weekend.
One of us is either over-dressed or under-dressed #TOpoli pic.twitter.com/28BIaCkghs

— David Soknacki (@DavidSoknacki) August 2, 2014
Toronto voters head to the polls on October 27.
Also on HuffPost