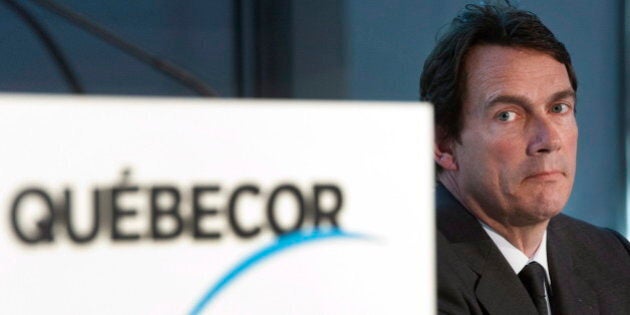 OTTAWA — Opposition parties are questioning the Conservative government's decision to sell wireless spectrum for an incredibly cheap price to, potentially, a Quebec telecom giant owned by an avowed separatist.
Quebecor, the company that is also behind Tory-friendly Sun News Network, may be in line to receive advantageous terms in the next several months from both the government of Canada and the Canadian Radio-television and Telecommunications Commission (CRTC) as it weighs whether to jump into the national wireless market and become the Conservative government's much-desired fourth player.
"Politically, you always wonder about the reasons for doing things, and selling the spectrum at anything less than full full value, I think is a loss to taxpayers," Liberal industry critic Judy Sgro told The Huffington Post Canada this week.
The AWS-3 spectrum auction, which will be held next spring, sets aside two blocks of spectrum: a large one for new entrants, such as Wind and Mobilicity, which are already operating in the area in which they plan to bid, and a smaller block for everybody to bid on.
Several analysts expect Quebecor to make a play for, or enter into partnership with, Wind in order to bid on the cheaper set-aside spectrum and build out a new national network.
In an interview with the Huffington Post, vice-president of regulatory affairs and legal counsel John Meldrum wondered why the federal government wasn't concerned with the viability of fourth players already operating in regional markets.
That's less than the opening bid for a similar auction in 2008, which started at about $0.20/MHz pop. And, as Scotia Capital analyst Jeff Fan noted, significantly lower than the $0.61/MHz pop the United States has set for opening bids in an equivalent auction this fall.
Because few players can bid on the set-aside spectrum, experts believe Ottawa won't get much more than the opening bid — $97.5 million for the entirety of the set-aside — and could lose millions in potential revenue.
In a briefing note, Fan said he estimated the set-aside block would earn Ottawa $210 million based on the 2008 auction. Canaccord Genuity analyst Dvai Ghose thought the set-aside would reach double what Ottawa now predicts.
Independent telecom consultant Mark Goldberg, in an interview with The Wire Report, called the low price "quite a gift from the Canadian taxpayers."
Sgro said she's unsure whether the government is purposefully lowering the bid price for the set-aside auction in order to "save face" and get a fourth national carrier into the marketplace or if it is giving a Sun News Network's parent company a treat and "taking this route specifically to open the door for Quebecor to be able to expand."
The Justin Trudeau-bashing and Conservative-cheerleading television network has never turned a profit and is bleeding millions annually.
"Doesn't that raise red flags to you?" Sgro asked.
"I think that people should at least be thinking about that and doing what is necessary to ensure that Canada isn't a loser," she said.
Dan Harris, the NDP's former deputy critic for industry, said he does not believe Canadians will pay attention to the links between the Conservatives and Quebecor. As long as it results in cheaper rates, he suspects, most won't care.
"I mean, here's a sovereigntist [Pierre Karl Péladeau, Quebecor's majority owner], and here's also Sun News, and here's the Conservatives…it can be seen as favouritism," Harris said.
But what's most concerning, he said, is that the Tories are bending over backwards in favour of one company, "regardless of who it is," just so they can say they have that fourth entry.
"That is not the free market that Conservatives espouse...We're not supposed to be in the business of picking winners and losers," the New Democrat MP said.
Conservative MP Peter Goldring said he believes most westerners will not care whether their new wireless service provider is owned by a separatist as long as the rules are fair and Quebecor "was not given an advantage."
Industry Minister James Moore has made no secret that he believes a fourth national wireless carrier is central to lowering Canadians' cellphone bills.
Moore's spokeswoman, Jessica Fletcher, told HuffPost on Tuesday that the low bid price, and everything the government does, is intended to encourage competitiveness in the market.
"The rules with the auction are consistent with previous auctions since we formed government," she said. "The rules are to encourage robust healthy competition, which invariably leads to more choice and lower prices for consumers."
She declined to comment on opposition allegations that the government might be showing Quebecor favourable treatment.
Last year, the federal government ran a $9-million ad campaign – widely viewed as an attack against the big three, Rogers, Telus and Bell – designed to convince Canadians that what they needed was "more choice" and "lower prices" in the wireless sector.
Moore also appeared to champion U.S. wireless giant Verizon's potential entry into the Canadian market as a boon for consumers. But Verizon chose not to enter that fall's spectrum auction, and it was Quebecor that surprised many when it successfully walked away with valuable 700 MHz spectrum licences to operate in Ontario, Alberta and British Columbia — places where there is no large fourth player. That led to speculation that the Quebec company might buy Wind and, perhaps, Mobilicity, in order to bid on the AWS-3 spectrum and become the country's fourth national carrier.
"Everything is being done to help ensure that there is a fourth player in the market," Fan, the Scotia Capital telecoms analyst, told Huffpost.
"The new entrants are getting considerable assistance by having a set-aside for which there may be only one or two bidders," he said, adding that that would make them more attractive for investors.
The Conservative government is "making it clear that they want consolidation among all the fragmented players like Wind and Mobilicity," he said. That, plus additional spectrum, plus retroactive wholesale roaming rates, is going to help build a business case for that fourth operator, Fan added.
The CRTC, the industry regulator, is set to hold hearing on the issue in September and rule in early January. That could dramatically alter the landscape for large and small providers alike, which, in some cases, roam on each other's networks in order to provide their customers with coverage.
Leonard Waverman, the dean of the DeGroote School of Business at McMaster University, suggested that the government may have run out of options in chasing its fourth national carrier.
While Rogers, Bell and Telus may end up paying a lot more for their spectrum and subsidizing the set-aside block, Waverman said, getting Quebecor to buy Wind in order to grow it as a national carrier was probably the only avenue left for the government.
"If it doesn't work," he said. "It would be a big setback for the government's plans."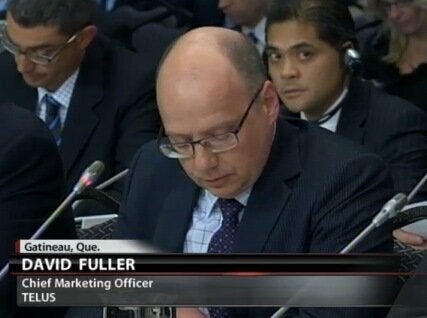 Most Memorable Quotes From The Wireless War