Our favourite former Apple employee, Sam Sung, is using his Internet fame to raise money for a Canadian children's charity.
Sung, who we tracked down in Vancouver almost two years ago, found one of his old business cards the other day when it fell out of a book.
It's one of those same cards that went viral when the world got a chuckle out of a Sam Sung working for Apple. The two companies are, of course, bitter competitors.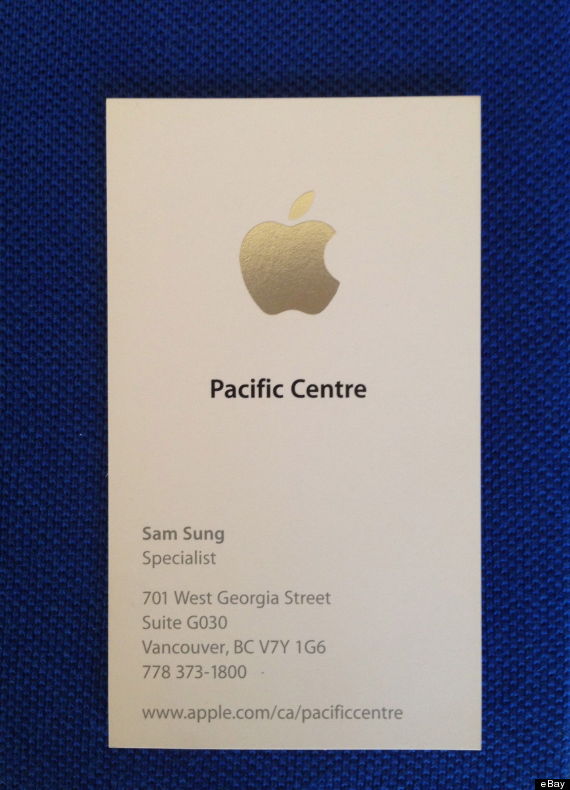 Sung has framed the Apple business card, along with his old uniform and store lanyard, and is auctioning it all off on eBay. He's even autographed it. Proceeds will go to the Children's Wish Foundation, which grants the favourite wish of a child with a life-threatening illness.
"I had a great time working for Apple and would recommend it to anyone," Sung wrote in the auction description. "I hope my old business card will go to another fellow Apple enthusiast with a sense of humour and the desire to help raise some money for a good cause."
The 10-day auction began on Tuesday at 99 cents and reached US$3,050 by Wednesday afternoon.
UPDATE - Aug. 13, 2014: Sam Sung and eBay had to remove several fake bids that had pushed the price to more than $80,000. Real bidding stands at about $2,000.
At the time, Sung could not talk about the irony because of Apple's strict media policy. "All I would say on all of the attention that happened a few years ago is… there's really no graceful way to approach that kind of attention," Sung wrote to The Huffington Post B.C. in an email on Wednesday.
Sung left Apple last summer and is currently a marketer and headhunter in Vancouver.
"I enjoyed working for the company but decided to try something new. It was time to fall from the tree and roll away from the orchard," he joked.
Sam Sung's Apple Business Card



UPDATE - Aug. 28, 2014: The winning bid on the auction came in at $2,907, which goes to teh Children's Wish Foundation. "I'm so pleased at the amount that was raised and, according to Children's Wish, anything over $2,000 is considered a major gift. So for me, that's a major win and it will go towards granting a terminally ill child's wish," Sung told HuffPost B.C.
Like this article? Follow our Facebook page

Or follow us on Twitter