Dominique Ansel, the face behind the cronut empire, has come up with a new stuffed soft pretzel that looks exactly like a penis. Well, to us anyway.
The Pretzel "Lobster Tail" is made with butternut crunch brittle and homemade peanut butter and is rolled into a lobster tail shape with bite-sized pieces, according to Eater. The $8 tail, which is available at Ansel's New York bakery as of August 9, is also served with a whipped honey brown butter.
But at first glance, yes, the lobster tail also looks like a penis. Several users on Twitter agree:
"@GMA: Drum roll please! The latest creation by the Cronut mastermind is.... A pretzel lobster tail! pic.twitter.com/8W98k6NgoM" Its a PENIS!!

— Keegan Fayram (@Keegles89) August 7, 2014
@mattduckor @GMA I'm just gonna say it: that's a penis.

— Luis Paez-Pumar (@paezpumarL) August 7, 2014
@GMA Sorry, but I don't see the lobster tail. 🙈🙉🙊

— Douglas D. Jones (@DouglasDJones) August 7, 2014
@GMA Epic fail....did no one point out what it REALLY looks like

— Susan Rahn (@Stickit2Stage4) August 7, 2014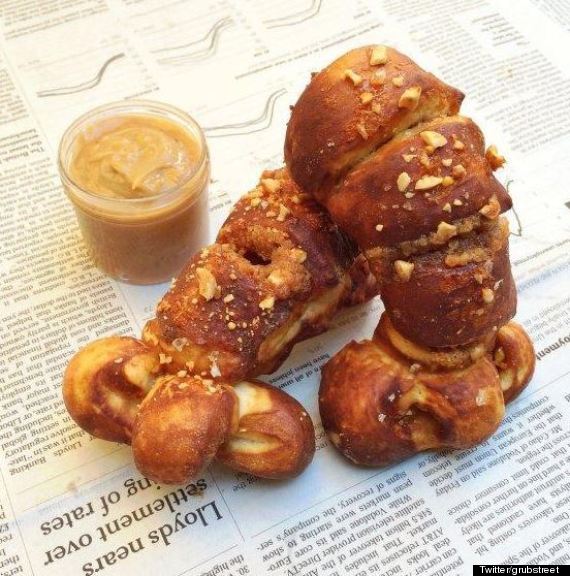 The cronut was one of the most successful novelty food items in recent memory (so popular that Canadians even got their own version of the croissant doughnut), but Ansel didn't stop there. He created a chocolate chip cookie shot glass for South by Southwest, and released a canned ice cream sundae last week.
The pretzel lobster tail, however, was introduced to the world on Good Morning America on Thursday. And phallic-shaped or not, it looks absolutely delicious!
Dominique Ansel's Creations