Blend Images - Peter Dressel via Getty Images
The group of people who did the lion's share of first-time home buying in recent years have racked up far more debt than those who came before them, according to a report from RBC.
The bank's analysis of StatsCan data found that the 35-to-44 age group had debts equivalent to 50 per cent of their net worth in 2012, up from just 30 per cent in 1999. And that's despite a roughly 50-per-cent increase in their net worth.
This group did "a disproportionate share" of first-time home-buying over the past decade and a half, the RBC report says, and the rapid rise in house prices seen in recent years is largely responsible for the jump in debt.
"Real house prices increased by an average of 4.6 per cent per year from 1999 to 2012, which was well-above the average 0.3 per cent increase over the prior two decades," the report notes.
But while mortgages account for the largest part of this increase in debt, it's not the whole story. Non-real estate debt has also jumped, largely due to an increase in lines of credit.
The report offers some theories as to why. Lower interest rates are making it easier to carry large amounts of debt, the report says. And the increased costs of homeownership may be forcing some households to borrow when previously they would have spent saved money.
And finally, there's the possibility that "there has been a shift in preference for current consumption at the expense of future consumption, resulting in less saving." In other words, this age cohort might just be becoming less fiscally responsible.
But ultimately real estate costs are the main driver of household debt, "so a sharp drop in housing prices could have a dramatic impact on household balance sheets particularly for the cohort aged 35 to 44," the report says.
Many economists argue that housing affordability hasn't eroded in Canada despite rapidly rising prices, because lower interest rates have made payments more affordable.
But the RBC report disputes this. It estimates that the average mortgage payment for the 35-to-44 age cohort increased by more than 50 per cent between 1999 and 2012, to more than $600 per month from below $400 per month. (See chart below. Average payments are lower than actual mortgage payments because not everyone carries a mortgage.)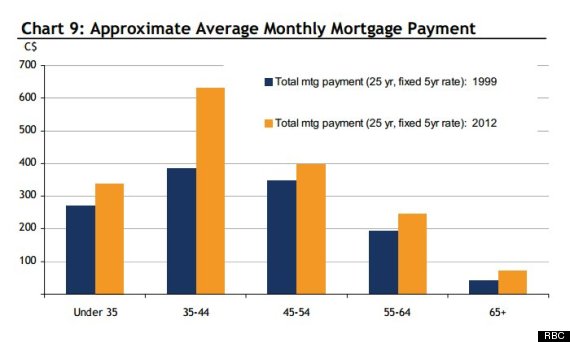 This group is vulnerable to both an increase in interest rates or a drop in employment, but RBC is "not expecting such to occur."
Like many housing forecasts from the major banks in recent years, the report predicts a "soft landing" for the market, as current house price growth is considered unsustainable.
The report expects that interest rates will rise slowly over time, but expects growing household incomes to offset the added mortgage costs.
All the same, with debt levels so high, the 35-to-44 age cohort "is particularly vulnerable relative to the rest of the population were an unforeseen shock to occur," the report warns.
Consumer Debt Per Person (2014)