She may have been a bit uncomfortable but that didn't stop Kristen Stewart from looking impossibly chic with a bunch of Chanel locks around her neck on the cover of the Sept. 2014 issue of Elle magazine.
On the much-coveted cover, the 24-year-old "Twilight" star is still rocking her long hair (she chopped it off in July) and wears a sequin black jacket thrown over her shoulder and a low-cut black bustier—the better to show off the heavy-duty Chanel locks and chains. (But seriously, doesn't that hurt her neck?)
Inside the issue, the actress sports a ton of gorgeous Chanel couture, which is fitting as the rising star is currently the face of the label's Paris-Dallas fall collection.
The actress also poses for photos that recreate Chanel's cool grocery store setting from their fall/winter 2014 runway show.
Rob Pattinson's ex has long been a fan of the storied French label and was photographed several times this year wearing their designer duds including a chic and cozy hoodie and polarizing two-pieces.
Karl Lagerdeld's muse also talks about her famous pout, which can be seen basically every time she poses for a photo.
"I feel like if I smiled for a paparazzi photo—not that I ever would—that's exactly what people would be desecrating me for," KStew said when asked how she handles the pressure of trying to make everyone happy. "They'd be like, 'Now you're going to give it up, now you're a sellout.' Like, OK, what do you want? What would you like?"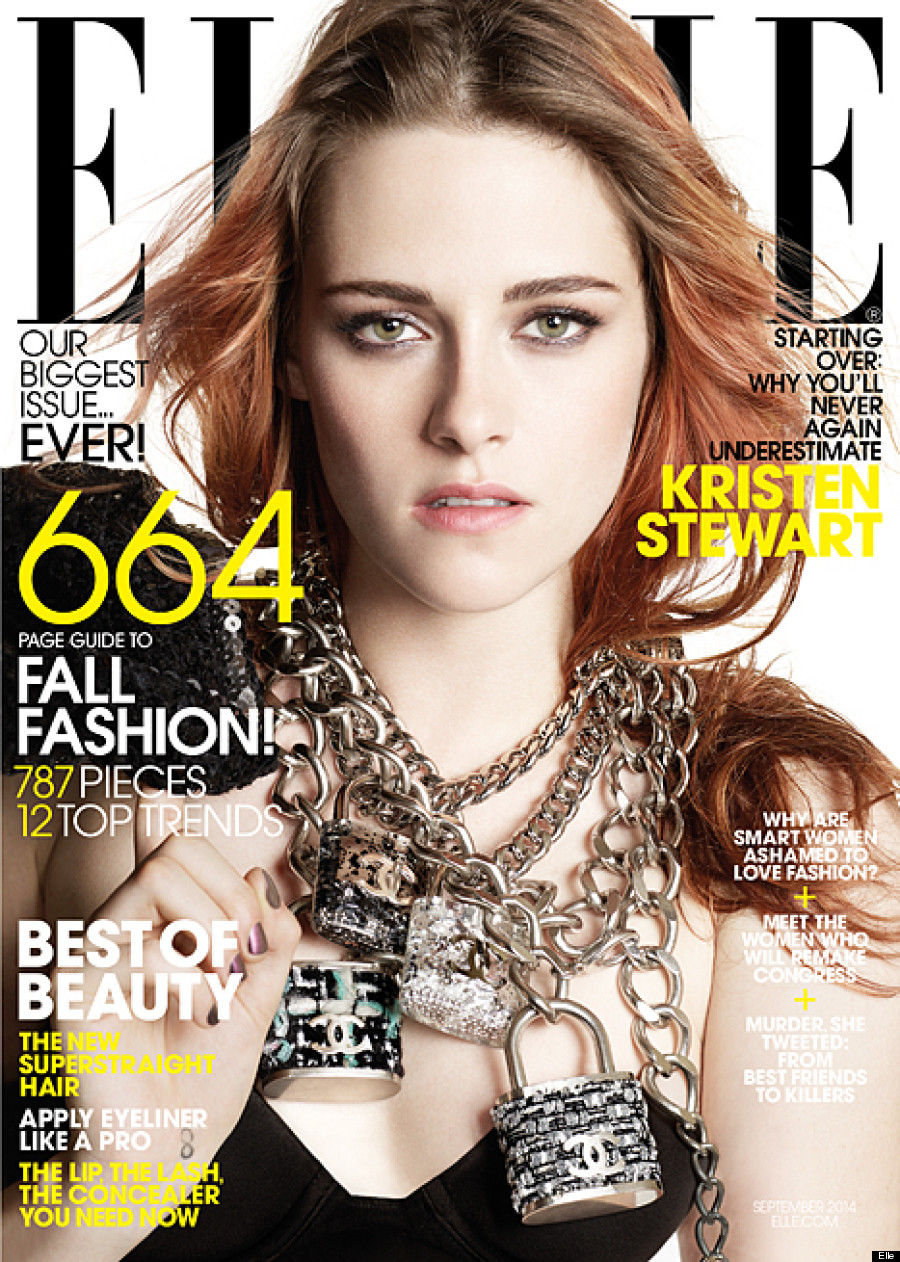 Exactly what made Kristen Stewart realize how big Twilight was going to be: http://t.co/9moE7SCFMe pic.twitter.com/abjVO1NNWP

— ELLE Magazine (US) (@ELLEmagazine) August 7, 2014
"If I smiled for a paparazzi photo that's exactly what people would be desecrating me for" http://t.co/k0qFXIVj8y pic.twitter.com/IN6yZxEfuk

— ELLE Magazine (US) (@ELLEmagazine) August 7, 2014
Also on HuffPost
Kristen Stewart's Most Glamorous Looks