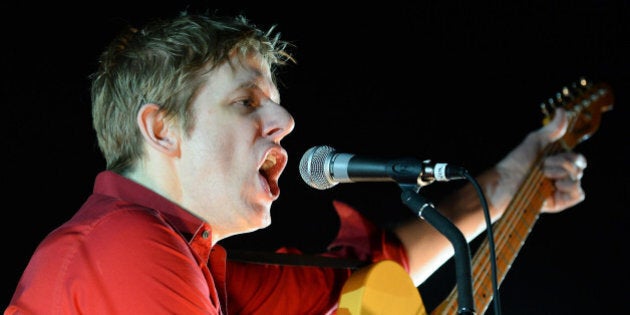 Britt Daniel is a busy man. The indie-rock veteran has spent the past two years establishing his new super-band Divine Fits as a musical force, fusing together his decades of song-writing ingenuity with ex-Wolf Parade/Handsome Furs frontman Dan Boeckner's electronic prowess.
But even before Divine Fits wrapped up their two-year tour and promotion, Daniel began writing again for his primary band, Spoon.
"We started recording in September, and then I went and did some more shows with Divine Fits," Daniel details to HuffPost Canada, adding they finished recording the Spoon's new record, "They Want My Soul," in March. "When I'm not doing shows, I'm writing constantly and making demos; I don't like time off."
In an ideal world, Daniel admits that his yearly work schedule would go something along the lines of, "make a classic, amazing album in a week and then tour for six months." But admittedly, Spoon's follow-up to 2010's "Transference" took much longer than a week to complete.
Originally intended to be produced by Joe Chiccarelli (Morrissey, My Morning Jacket) and mixed by Dave Fridmann (MGMT, The Flaming Lips) – the first time Spoon has invited outside producers into their recordings – the band quickly realized that there were some creative differences between them and Chiccarelli.
"I think Joe was a little frustrated with us," Daniel reveals. "He wanted to make a certain kind of record and we wanted to make a certain kind of record."
Daniel cites the track "Outlier" as an example of their conflict. "[Drummer Jim Eno and guitarist Eric Harvey] wrote the music and I sang on top of it, and maybe because I didn't write the music, I was super excited about this track. But in the first day of pre-production with Joe, I said, 'Isn't that one great!' and he said, 'I think it's got some promise,' and I just felt like [makes a choking noise]."
"I spent two months trying to write a proper chorus for that song," he continues. "But I ended up leaving it the way it was because it's fucking amazing and everybody loves it."
Another welcome addition to the band is keyboardist/guitarist Alex Fischel, the fourth member of Daniel's other band, Divine Fits. During their touring cycle behind "Transference," Spoon had a revolving door of temporary fifth band members, so when time came for "They Want My Soul," Daniel introduced Fischel as a permanent addition. "He has a way of speaking to the youth culture," Daniel jokes as Fischel is the band's youngest member by more than 15 years.
The new album itself, Daniel says, is more "bombastic," and guaranteed to be "a record for playing in your car, really loud with the windows down, as opposed to the record before, which was loud with the windows up."
As for the fate of Divine Fits, Daniel says that the band is currently on hold as he focuses on Spoon and Boeckner launches yet another new band, Operators. But in Daniel's signature restless tone, he smirks and hints, "We will rise again."