It was a frighteningly close call for a P.E.I toddler whose playpen was struck by lightning while he slept inside, but escaped unharmed.
Jessica and Jeff Cormier, parents of 17-month-old Jaxen, told CBC News that they had brought their three children out to a vacation home in Cape Breton. What was supposed to be a relaxing family vacation took an unexpected turn during a severe thunderstorm.
"I had never seen a storm like this," the toddler's mom told CBC News, describing the lightning as "a big, blue flash accompanied by a 'crack,' like a gunshot."
Cormier told P.E.I newspaper, The Guardian, that she immediately went to check on the sleeping baby, who she assumed had awoken. What she saw was thick smoke.
"I quickly ran to the playpen, scooped him up and ran out of the room yelling at other people to get out, that there was a fire," she said.
CBC News correspondent David Common posted this photo on Twitter, showing the extent of the damage.
While Jaxen managed to sleep through the ordeal, CTV News reported that the home had been damaged. A strike destroyed a phone jack and Internet modem. It also left burn marks on the wall and even holes in the playpen. Nearby homes also lost power.
Despite the damage to the house, Jeff said he's thankful there were no injuries.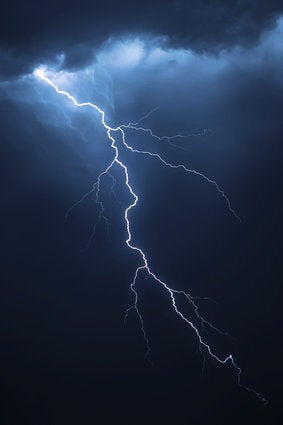 Alberta Hot Spots For Lightning Strikes