Twitter
It's been said that vagueness is advantageous in politics.
That theory is being borne out by the results of a recent poll in Toronto's Ward 2 Etobicoke North, where newcomer Michael Ford, a hitherto little-known candidate for city council, is leading with 43 per cent support.
UPDATE: Sept. 12 — Michael Ford has withdrawn his council candidacy and will now run for school trustee in Ward 1.
Not much is known about the 20-something candidate, who is the nephew of Toronto Mayor Rob Ford and Coun. Doug Ford (he's running to fill the latter's seat). He won't be giving interviews to journalists because his uncle Doug said the media is too biased, CityTv reported.
But Dr. Lorne Bozinoff, president of Forum Research, which commissioned the poll, said that "name recognition is everything" in municipal politics.
"There are no party policies, no leaders, so people vote for the names they've heard of," he said in a news release. "In Ward 2, that name is Ford, no matter which one it is."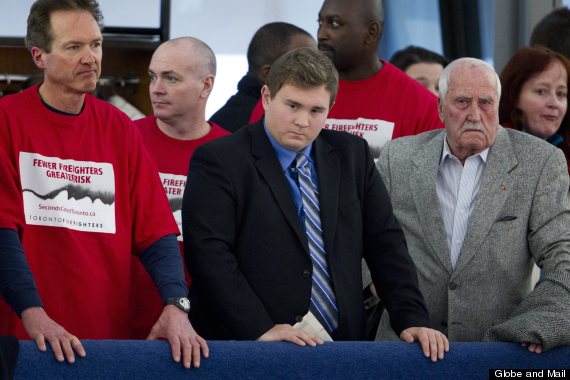 Michael Ford, seen here at a Toronto city council meeting in January 2014, has "grown up in politics," according to his uncle Doug.
"Mikey," as his family knows him, was born as Michael Douglas Stirpe to Kathy Ford, Rob and Doug's sister, and Ennio Stirpe, The Toronto Star reported.
His upbringing was rife with difficulties.
When he was a toddler, his father, a recovering heroin addict, arrived at his Caledon, Ont. home with a sawed-off shotgun and killed Kathy's boyfriend Michael Kiklas.
Then, when he was 11, Kathy was shot in the head in her mother's house. Scott MacIntyre, a former boyfriend, faced weapons and drug charges but none were laid for the shooting.
Ford graduated from Etobicoke's Richview Collegiate Institute in 2010, BlogTO reported, and was a "helpful" member of its football team, a former classmate told The Star.
Doug Ford told The Globe and Mail that Michael has "grown up in politics" and that "I trust his judgment more than I trust 90 per cent of the councillors down there."
His political experience includes work on Rob's campaigns and in the office of Coun. Frances Nunziata, who said he was a "fine" worker.
Today, Ford is listed as an account executive at Deco Labels and Tags, the family company, but he divides his time between there and Humber College, where he's studying business. He has also been a councillor at Camp Kandalore in Algonquin Highlands, Ont.
His candidacy doesn't mark the first time he's been in the public eye. Ford was spotted putting the mayor's bags in a car before he went to rehab.
He was also seen picking up Rob's Cadillac Escalade at city hall after the mayor had taken strangers to the building following a hockey game on St. Patrick's Day.
Though his surname may help his chances, there is still much skepticism in his riding about his experience, The National Post reported last month.
"He's what 22, 23?" Gold-Buyers Canada district manager Ersen Celik told the newspaper. "He should be in college or something."
One of Ford's opponents, insurance worker Andray Domise, told The Globe that one's family name shouldn't entitle them to a council seat.
"The idea that there's someone to keep the seat warm for the family or establish a political dynasty in my neighbourhood is not something to take sitting down," he said.
Torontonians go to the polls on Oct. 27.
Like Us On Facebook
Follow Us On Twitter

Rob Ford Returns From Rehab