One of these things is not like the other, one of these things is not quite the same.
A promo photo for "Downton Abbey" has set the Internet abuzz, but not in a way the show's creators probably expected. On Thursday, the producers released a series of promotional photos on the show's official Facebook and Instagram accounts.
They feature some of the first shots of Richard E. Grant reprising his role as as Simon Bricker, Tom Cullen looking dapper as Tony Gillingham and this photo of Hugh Bonneville and Laura Carmichael looking swanky as the Earl of Grantham and Lady Edith Crawley posing in front of a gorgeous fireplace.
But there's one small problem. Can you spot it in the photo below?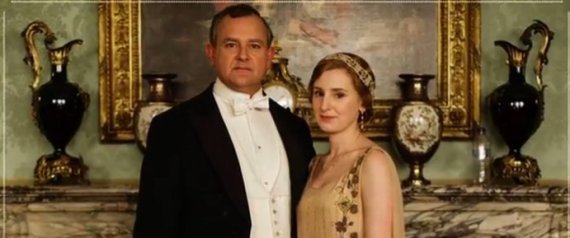 Look closer. And a little to your right. Unless time travel is a major plot twist for season five, it's safe to say someone screwed up and left a plastic water bottle on the mantle.
The photo has since been removed from the show's social media accounts, but that hasn't stopped sharp-eyed fans from sharing the photos on Twitter.
"Downton Abbey" will return on PBS Masterpiece Classic next January.
Also on HuffPost