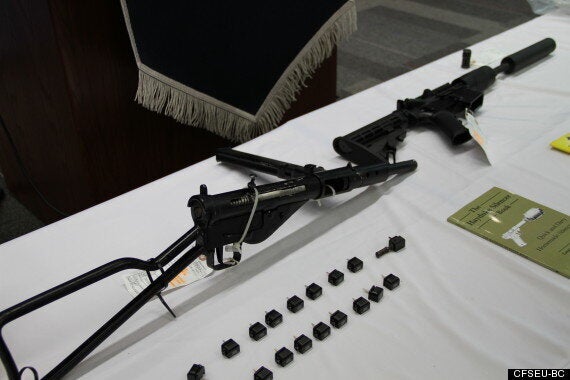 A cross-border investigation has resulted in several charges laid against a B.C. man who police call a "Dr. Frankenstein" of weapons. He was arrested while camping with his five-year-old son.
Bradley Friesen, 37, allegedly altered firearms — including Glock revolvers and machine guns — to silence them, increase their firepower, or turn them from semi to fully automatic, according to the Combined Forces Special Enforcement Unit of B.C., which held a news conference on Thursday.
Police accuse Friesen of running a workshop out of a rented property in Langley, B.C., selling the illegal weapons over the Internet and shipping them to addresses in Canada, the U.S., and Australia.
He was arrested without incident on July 17 at a campground in Osoyoos where he was vacationing with his son. Shockingly, police found the boy sitting in his car seat in a van — with an unloaded sub-machine gun at his feet and gun parts under his booster.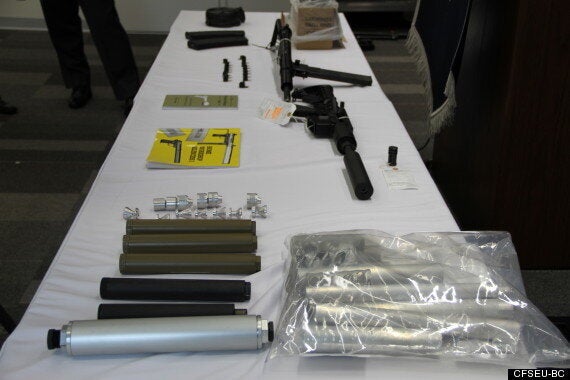 Police in B.C. displayed some of the evidence seized in the case against Bradley Friesen.
In Osoyoos, police seized several firearms and prohibited devices from the van and camping tent, including a CZ858 fully automatic assault rifle, an AR 15 assault rifle converted to fire fully automatic, and seven "silencers." They also made seizures from Friesen's Langley home and rented workshop.
"As a parent, I find this absolutely appalling," said Sgt. Lindsey Houghton of the CFSEU-BC. "Bradley Friesen is a dangerous offender who is alleged to have showed a complete disregard for the safety of the public, including compromising the safety of his own child."
He said the child is now with a family member, and the Ministry of Children and Families has been contacted about the boy's welfare.
The U.S. Bureau of Alcohol, Tobacco, Firearms and Explosives (US ATF) in Tucson, Ariz. approached police in B.C. about Friesen in May. Authorities are seeking his extradition to the U.S. on weapons trafficking charges.
In Canada, Friesen faces several charges including weapons trafficking, and Houghton expects dozens more to come.
Friesen, who is under a lifetime firearms prohibition, has a previous criminal record for attempted murder with a firearm in Penticton in 2003 and past convictions for various drug and property offences, said Houghton. He said Friesen is linked to several "mid-level British Columbia crime groups."
Friesen remains in custody in Surrey, awaiting trial on the Canadian charges.
UPDATE - Aug. 18, 2014: Bradley Friesen is now charged with a total of 46 offences, including 10 counts of possession contrary to a prohibition order, three counts of weapons trafficking, and six counts of careless use of a firearm.