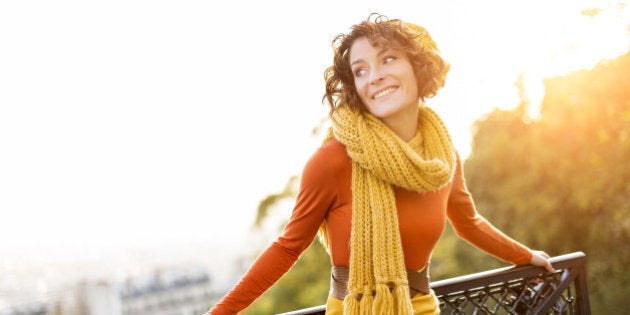 It would be much easier if we could wear the same clothes all year round but unfortunately, that's not the case for those of us who live in the Great White North. (Thanks a lot, Canada!)
Not that you need reminding, but in just over a month, summer will be coming to an end and with that, autumn will be in full swing. Meaning? Well, it's time to look at fall fashion 2014.
Fortunately, you don't have to ditch your whole summer wardrobe just because it's going to get a bit cooler outdoors. The fashion savvy can always seamlessly ease into fall without any major hiccups. Why? Because they have great transitional pieces that work for both seasons.
If you're not sure what to look for in a great transitional piece, there are a few things to consider: can you zip it up or extend the sleeve? Can you wear something underneath? Does it still look good with a blazer or jacket over top? Does it work with booties as opposed to sandals?
If the item in question passes one or more of these tests, it's likely worthy of being a good transitional piece.
If you're creative, you might even be able to wear these items all year long.
Story continues after the slideshow: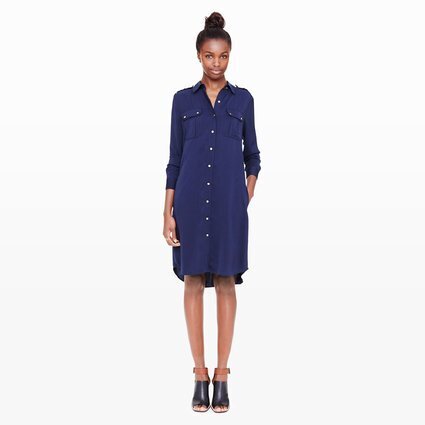 10 Transitional Pieces For Summer To Fall 2014
The shirtdress is the ultimate transitional piece. When it gets a little cool, simply roll down the sleeves and pair it with tights. Since the weather goes a bit wonky in September, super humid days might still be in the cards. On those days, ditch the tights and reunite with a pair of strappy sandals.
This skirt can go either way. Summer styling calls for a silk shirt and open toe pumps. In the winter, pair this versatile skirt with a cashmere sweater and luxe black booties.
Yes, you have our permission to wear white this fall. This moto-style crepe jacket is really lightweight but you can easily make it appropriate for autumn. Instead of wearing a tank top underneath, wear something long sleeved and accessorize with a cozy scarf. Alternately, you can experiment by throwing a vest over top for added warmth.
Most of us think of boyfriend jeans as a summer staple but they don't have to be. Roll those bad boys down and pair with closed toe booties, oxfords or a simple flat for a perfect cool weather look.
Tell us these versatile Nine West booties wouldn't look great with a flowy summer dress or skinny jeans and a blazer for fall. Right?
Cardigans hold the title of the ultimate transitional piece. You see them all year long, no matter the season. This relaxed cardigan from Forever 21 works on so many levels for summer by pairing with a dress, shorts or skirt. For fall, all you need is a long sleeve shirt and long pants to keep you cozy, stylish and warm.
If there's one jacket you need to keep kicking around throughout summer and fall, it's the classic trench. Keep it unbuttoned when the weather is warm to show off your summer style and button it up with your favourite scarf and buttery gloves as soon as it gets a bit icy.
This bright summer number would do just as well in fall. Simply cover up the sheer back with an equally playful jacket or layer it over a classic white oxford. Top off your fall look with a closed toe pump.
A cropped sweater is the perfect transitional piece. To make it cool weather appropriate, simply add a layer underneath or pair with high-waisted pants to minimize exposed skin.
Fall is not the time or place to be discarding your colourful heels. Just because flowers bloom in the spring and summer doesn't mean you can't wear these playful pumps well into late fall.