Now this is what you call a "make it work" moment!
Heidi Klum stole the show at the Creative Arts Emmy Awards on Saturday, in an electric blue and black fringed dress which made her want to twirl up a storm. How could you blame her?
The custom-made column gown was designed for the "Project Runway" host by current contestant Sean Kelly, leading some savvy Instagram users to predict this could be the winning garment from next week's episode. Spoiler alert or not, the 41-year-old statuesque beauty completed her backless look with a nude manicure and bold sapphire ring from Lorraine Schwartz.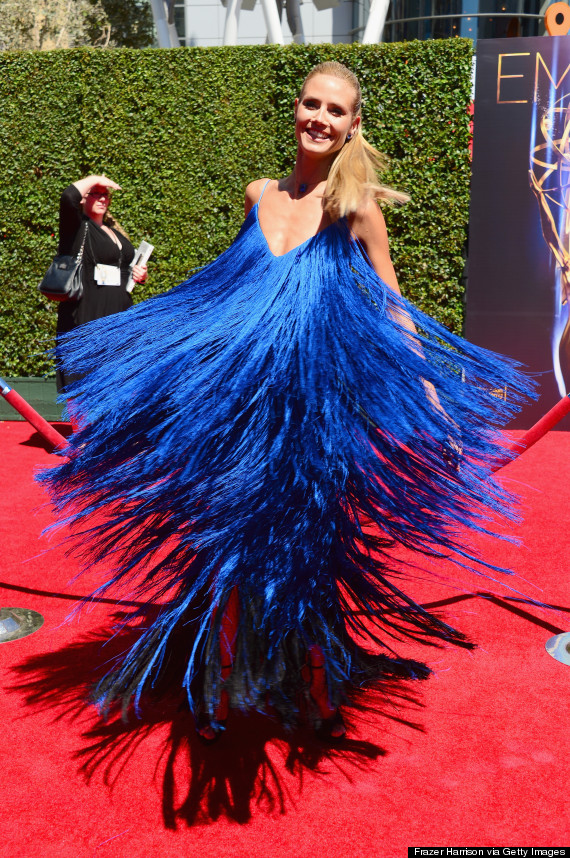 Walking the red carpet with her plus one, "Project Runway" mentor Tim Gunn, Klum couldn't help but celebrate on both her and Kelly's behalf. Spinning and playing up the fringe, even Gunn was taken aback by Klum's confidence on the Los Angeles red carpet.
Though Klum and Gunn left the awards show empty-handed, it couldn't mute their high spirits. The latter posted this photo of the two presenting on Instagram, with the caption, "Everyone, congratulate @PR13seankelly for his fabulous design for @heidiklum! How lucky am I to have been in the presence of both! XX"
Klum has famously worn the looks of "Project Runway" alums before, including a black-and-white polka dot Mondo Guerra dress to a "Black Swan" premiere in 2010, and a Nick Verreos-designed Nikolaki black asymmetric dress while chatting with Conan O'Brien in 2008.
What do you think of Heidi's latest look?