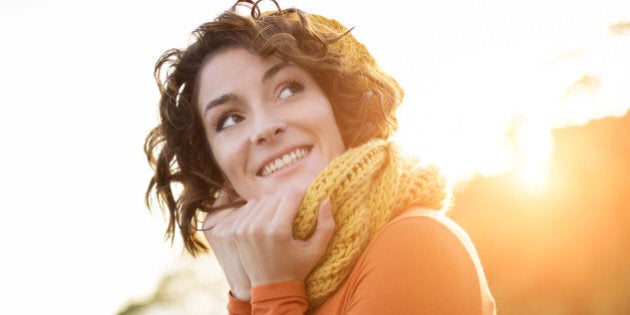 Every autumn, we collectively experience The Purge. Except, unlike the movies, this version is good, and not at all violent, and it results in bags of clothes being sold and/or donated.
Correct, friends: the dipping temperatures call for a closet clean out to make room for fall fashion 2014. And hey, you might think you're fine. We all think we're fine until we're trying to shove a new sweater into a chest of drawers that's jam-packed last year's stuff we hate more than words.
This is normal. Tastes change, trends phase out, and those last-minute discounted clearance items now seem like the colossal waste of money they were. So today, we're going to prep and/or help you. Here's what to get rid of for fall 2014.
We're not saying to get rid of them forever, but right now is the time to replace these with any other headpiece. (We saw a headband that looked like two braided buns the other day at Topshop, which is one option.) Flower crowns, regardless of how much we love them, are a summer look – especially when you're going to be layering up to combat cold weather (in which flowers die). Then, if you miss them come April, bring those flower crowns back out and laugh in our face for suggesting you purge them. Done.
We will defend high top sneakers to the bitter end, but it's time to bid adieu to their platform counterparts – if only because we're going on our third year of the trend and they've been replaced with a flat (and more wearable) alternative. But we promise that sneakers themselves are going nowhere: Converse, Keds, Adidas, Nike, and even chains like Aldo and American Eagle have thrown their own styles into the mix for the season – they've just made their styles more practical. So let this be the autumn of comfort. Or, at the very least, of less height.
"Don't you hate pants?" – Homer Simpson.
5. Overly-Aggressive Crop Tops
Here's the thing: paired with a high-rise bottom, crop-tops are actually quite flattering, especially since they accentuate the slimmest part of everyone. However, as summer 2013 melted into summer 2014, crop tops got less "top" and more "bandeau," making them a little less wearable for 99% of the population. That said, fall 2014 has delivered a compromise: collections by Marc Jacobs and House of Holland offered tops and dresses that covered everything up a little more, arguably giving us something 99% can actually wear. (And still in the spirit of the late '90s – hooray!)
It's time to place those mullet dresses/skirts in a bag, pay your respects, and send them across the galaxy where they can re-evaluate and return years from now, to new, shapeable minds. Besides: who wants to wear a skirt that extends past your coat? No one. It was terrible. We all hated it, and now we can finally say so.
In the summer, pajama pants are perfect. They're light, they're airy, and they're a practical alternative to shorts. But when it comes to fall, it's naptime for this warmer-season staple since they just don't hold up when it comes to cold weather. Even designers agree: while Veronique Branquinho offered a take on the roomy bottoms, they're still much dressier and substantial than what we've been seeing all summer. We're in jeans land again.
Okay, so here's where things may start to get complicated: patterned leggings haven't gone anywhere. Most chains are still offering paisley, floral, or plaid styles that can help kick up an outfit as opposed to define it. (On the designer front, Leonard's use of leggings is another good example.) But last year's affinity for "bold" prints like hamburgers, cats, and/or anything else are less available than they were circa 2013. This isn't to say prints are wrong (seriously: all fashion is good fashion if it's what you like), but they're just not as sought-after as they once were. Likely because we're having more fun with denim and leather instead.
While Victoria Beckham paired a two-tone skirt with a bulky black shirt (a "'90s and perfect" move), the floral, "Practical Magic"-esque styles of the last 12 months have taken a backseat to midi lengths, knee-lengths, and mini skirts. Which makes sense, considering the footwear of 2014: riding boots are still kicking around, sneakers are a major player in the fall/winter 2014 game, and heels aren't that practical come snow and ice. The '90s are still a major influence in terms of the upcoming season, and while summer in the decade calls for sweeping peasant skirts, the vibe is either of the '96 variety, or grunge. Which explains all the black and grey.
Happy closet clean-out, friends!
Check out fall 2014 trends below: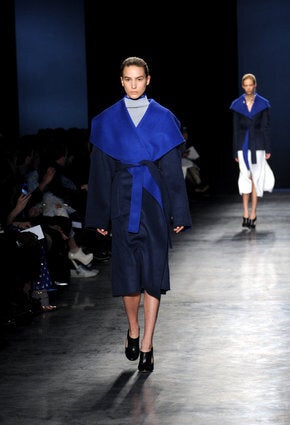 Fall 2014 Fashion Trends You Need Now