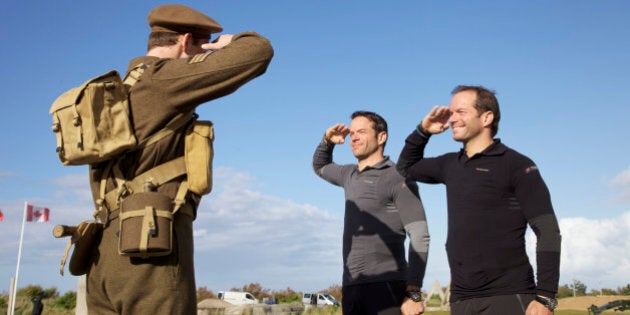 WARNING: Spoiler Alert! Do not read on unless you've seen "Amazing Race Canada" Season 2, Episode 7. Unless you like spoilers, then go right ahead!
Feel free to call them "French toast."
"We're on our way to Normandy," said Ryan. "We're not exactly sure. We haven't seen any signs."
Vancouver bartenders Ryan and Rob continued to stumble as "The Amazing Race Canada" stormed the beaches of Normandy, France. Making light of their subpar performances, the two bestow self-appointed working titles for their improbable French travel show spinoffs, including "Getting Lost and Hating Yourself," or "Taking the Long Way in France with Ryan and Rob."
We can see the marquee now.
According to Rob, the best buds "just sucked at directions today," and managed to get lost every time they went back into their vehicle in between each task. Luckily, the pair was spared by a non-elimination leg, the second of the race, after the former saved Sukhi and Jinder while abroad in Macau.
This time, however, the race's trip outside of Canada's domestic borders was considerably more appropriate to the tone of the series. The challenges in Hong Kong and Macau were certainly entertaining on the whole, but save for a ludicrous "MasterChef Canada" tie-in which required the search of maple syrup in an Asian marketplace, they seemed tangential to celebrating Canadian talent, beauty and history. On this leg of the race, the teams raced from Winnipeg to Normandy in honour of the 100th anniversary of the start of World War I, and to commemorate 70 years since June of 1944, when Canadian troops landed on Normandy Beach. It was a fitting tribute, and the show's producers never lost sight of it.
Before landing in France, Meaghan pledged to get the hockey players back to the top of the race podium. Meanwhile, Audrey made a feeble attempt to connect with Pierre and Michel after their first place win.
"Suddenly, people want to speak to us," said Pierre. "She hasn't talked to us in six legs. I think she's a hypocrite."
True or not, the teams then travelled to a Roadblock at the Boulard Calvados Distillery, where one member was tasked with distilling its signature apple brandy to 40 percent. The challenge involved a "complex mathematical formula and silent tutorial," but the secret to solving this alcoholic puzzle wasn't in the numbers, it was in the size of the equipment. With that in mind, Pierre, Audrey and Ryan all solved it on their first try, though not in that order. Meaghan struggled by using the wrong tool sizes, Pete got a leg up from Ryan and Rob, and Jinder panicked, which is something viewers have come to expect. Plus, apparently Mickey and Pete are two jacks of all trades, with the former attending school for accounting. He was also, at one point, enrolled in cosmetology classes and is a master hair braider. Who knew?
Once they were back in their car and forced to navigate, Ryan and Rob could never gain an advantage on his leg, getting lost at each turn. Upon finishing the Roadblock first, Pierre noted the team wasn't even present with the others at the task, and called them out, saying, "I think [they] are on their way to Spain." Sassy and almost true, at least we got to see beyond Ryan and Rob's competitive fire in this episode, particularly when Ryan told Sukhi and Jinder to "fermer la bouche" after their trademark task showboating celebrations.
Next, the teams took a historical Detour of "Show and Tell," where they were given the options of bestowing a horse with a French braid complete with a Canada-red ribbon, or rearranging a series of chronological tapestries. Aside from Alain hoping that the horse would nip at a sheepish Jinder, these tasks were noticeably simple and unspectacular, to save time in the episode for a longer tribute in Normandy — a wise choice by the production team.
After quickly land sailing around the Atlantic Ocean, the duos made their way to Beny-Sur-Mer, a permanent resting place for Canadian soldiers. Here, "racers [had the] opportunity to pay their respects to brave Canadian soldiers" before landing at the mat on Juno Beach.
Touching and emotional, each team seemed humbled by the tribute to Canada's veterans. Mickey and Pete read the ages on several gravestones, and were taken aback by how young the soldiers were when they met their fates. Sukhi teared up after identifying the fallen as brothers, and talked about how grateful she was to race across the country, and the world, with her sibling.
Then, each pair was greeted at the end of the leg by both host Jon Montgomery, and 89-year-old veteran, Jim Parks.
After being thanked for his services, Parks said, "I feel privileged to be here to represent those that couldn't make it."
It's hard to express gratitude better than that. Next stop, Paris! ... France, not Ontario.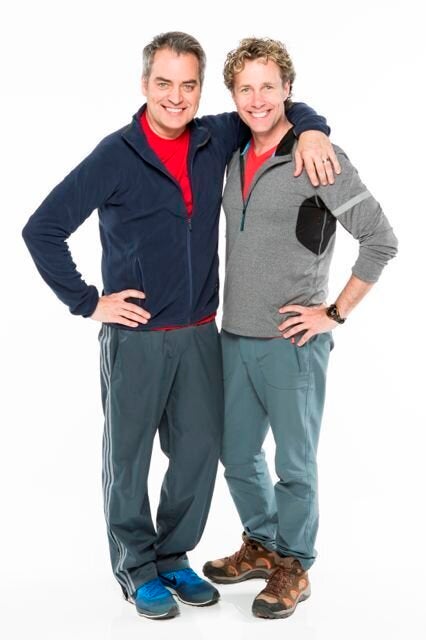 'Amazing Race Canada' Season 2 Teams