EDMONTON — Liberal Leader Justin Trudeau says he wants cabinet ministers from Alberta – and it may not be just wishful thinking. The Huffington Post Canada has learned that the party has targeted about eight seats for the next federal election in 2015.
Speaking to his caucus at the Westin hotel in Edmonton, Trudeau said: "[We] are here to emphasize how important it is that the Liberal party draws in strong voices, strong candidates and brings forwards strong members of a Liberal government from Alberta."
Those words might seem a bit presumptuous for the leader of the third party in the House of Commons with 37 seats, none of them in Alberta. The Grits haven't won a seat in the province since 2004, when former justice minister Anne McLellan represented Edmonton Centre. Their best result was five seats in 1949.
But Liberal insiders told HuffPost that the party believes it has a real shot at winning four to six seats in the Conservative heartland during the next federal election, specifically ridings in Edmonton, Calgary and Fort McMurray.
"We are not going to shoot for the moon and think that we are going to sweep the province NDP-style in Quebec or anything, but we'll have some targets, and we think it's realistic that we can pull them off, given the current polling environment," a Liberal strategist said.
Several sources said the party plans to focus on the ridings of Edmonton Griesbach, Edmonton Centre, Edmonton Mill Woods, Edmonton Manning, Calgary Centre, Calgary Confederation, Calgary Skyview and Fort McMurray–Cold Lake.
"We will win seats in Edmonton," declared Daniol Coles, the party's candidate in Edmonton Griesbach. "We have, right now, four candidates confirmed, and honestly, they are all winnable ridings."
Even Edmonton East Conservative MP Peter Goldring thinks there is no doubt the Grits will gain a foothold in the province after a long absence.
"It's obviously why they are coming here. 'Redmonton' as they have called it for many, many years – there are opportunities for Liberals, as well as NDP. And with the redistricting and a few members that are retiring, certainly there is an opportunity," he told HuffPost from his constituency office this week.
The riding that Goldring has held for 18 years – a seat that has been blue with the exception of two terms when the NDP and the Liberals took it, in 1988 and 1993 respectively – is being carved up, and he still hasn't decided whether he will run in Edmonton Griesbach or retire.
"In the last election, it was very evident that the Liberals were not going to be pulling it off or even pulling their own weight, but this time I think it will be a little different," Goldring added.
There are a couple of factors playing into the Liberals' favour that could change the tide.
First, Trudeau. Since he became Liberal leader, the Grits' support in the polls across the country has skyrocketed.
"When you look back at Calgary, the majority of the mayors, they were Liberals, and Albertans, 60 per cent they are progressive," Calgary Skyview candidate Darshan Kang told HuffPost Tuesday.
"But for some reason, we couldn't resonate with them. But finally, with Justin coming, we are finally starting to resonate with Albertans," he said.
The Liberal leader's strong support for the Keystone XL pipeline and his apologies for his father prime minister Pierre Elliott Trudeau's massively unpopular National Energy Program have helped court Albertans.
Tuesday, the younger Trudeau once again pledged never to use Western resources to buy Eastern votes.
"Albertans aren't talking to me much about the NEP," he told reporters. "It's the journalists and my political opponents who tend to ask a lot about that. I think they are running against the wrong Trudeau. I am focused on the future."
Even before Trudeau took the helm of the party in April of 2013, the tide in Alberta appeared to be changing.
In the 2012 Calgary Centre byelection, Liberal candidate Harvey Locke obtained 32.7 per cent support, against Conservative winner Joan Crockatt's 36.9 per cent of the vote.
This June, during a byelection in Fort McMurray–Athabasca, the heartland of the oilsands, Liberal candidate Kyle Harrietha received 35 per cent support.
"We had our best result in 46 years in the byelection," he told HuffPost Tuesday. "They had their worst result in 52 years. I think that we have demonstrated that we are absolutely competitive in northeastern Alberta."
"The Conservatives are taking the region for granted," he said. "They are not doing the type of work required to reach out to residents to improve their quality of life."
Liberals and Conservatives in Alberta say they believe the Tories in Ottawa are not representing the needs of the province adequately.
"I hear from a lot that they aren't. That they are not speaking up for the interest of Alberta people," Edmonton Strathcona NDP MP Linda Duncan said.
The Conservatives are good at selling what they are doing, but on many issues that people care about, such as rail safety, getting grain to market on time and the proper regulation of resources, they have dropped the ball, Duncan said.
With a prime minister from Calgary and five cabinet ministers from the province, the accusation drew emphatic denials from Goldring.
"I would think that people's voices have been well reflected in Ottawa. I mean, what area hasn't been? Even in the poverty area, I've just had a motion passed on [enumeration] for homeless people," Goldring said.
"Undoubtedly, the government is in power, and the government has a majority, and the government has discipline, and that impacts a lot of MPs that they want to toe the party line – but that is in every government to a certain degree."
But Kang, the Calgary Liberal candidate, said the Tories haven't practised in Ottawa what they preached in Alberta.
The Reform party promised open, transparent government and the rejection of gold-plated pensions, and instead "they took everything," Kang said. "Albertans are seeing that, that they aren't what they preached to be."
"It's definitely been a good Conservative swing for 10, 20 years, but those cycles turn around," added Coles, the Edmonton Griesbach Liberal candidate.
Some Conservative MPs may be feeling their seats are in jeopardy. Several jumped to safer ridings – a feat made possible by new riding boundaries under redistribution and the addition of six new seats.
Edmonton–Mill Woods–Beaumont MP Mike Lake chose not to run in Edmonton Mill Woods in favour of the safer Edmonton Wetaskiwin. Edmonton–Spruce Grove MP Rona Ambrose will run in Sturgeon River instead of Edmonton West. Calgary Centre-North MP Michelle Rempel jumped to the new riding of Calgary Nose Hill rather than run in Calgary Confederation, a seat that had the lowest transposed Conservative vote of any new Calgary seat in 2011, according to Alice Funke at Pundits' Guide. Others, such as Laurie Hawn and LaVar Payne, have retired.
The riding redistribution may help the Liberals win some seats. In Fort McMurray–Cold Lake, where the Liberals won a majority of their support in the Municipality of Wood Buffalo, the seat's new boundaries are more favourable for Harrietha, since it will not include many of the polling stations won by his Conservative opponent.
The Liberals don't do well in rural Alberta, Grit sources were not shy of stating, and the party doesn't expect that to change.
The Liberals tend to do better in the eastern and southeastern parts of Edmonton and in the northeastern and central parts of Calgary, the source said. "The more diverse the better," he added.
Demographics are helping the Grits' fortunes. The flood of new immigrants that make their homes in the Calgary-Edmonton corridor each year is a factor, but those same demographics were there in the past two elections. Calgary, where Mayor Naheed Nenshi is a Muslim, is about 30 percent visible minorities.
The Progressive Conservatives' problems in Alberta may also help the Liberals.
"Provincially, obviously the Conservative government has run into a lot of trouble, and in people's minds, they tend to blend the two together federally and provincially, but nonetheless it's helping us right now," Coles said.
Karen, a middle-aged woman who lives across the street from where the Liberals are gathered and declined to give her last name, also suggested that the provincial government's problems would help Trudeau.
"It depends how fed up we all are with the Conservatives and all their bullshit and their provincial shit," she said. "If you get pissed off at the Conservatives, you get pissed off in general."
Right now, the Liberals and the NDP – who will also gather in Edmonton in early September for their caucus meetings – are focused on reaching out beyond their traditional base of support.
"The traditional Liberal base is not significant – we run 25 to 30 per cent of the vote, I'd say, province-wide, maybe a little more in Edmonton – but at the end of the day, I'm talking to everyone," Coles said.
His riding, Edmonton Griesbach, could find itself in a three-way race in which vote splits could give the seat back to the Tories or possibly the NDP.
Duncan, the NDP MP from Edmonton Strathcona, said she believes NDP candidate Janice Irwin has a "huge shot" at winning Griesbach. "She has been campaigning now for two years. She's a real dynamo."
The candidates, however, are trying to keep their expectations in check.
Duncan, who readily acknowledges that she won her seat by courting votes from Liberals, Greens and Tories and boosting the voter turnout, is less enthusiastic about her party's changes in Alberta than she was two years ago, when she predicted two more seats.
"I'll be glad to keep my seat, and I know my party will be glad if I keep my seat, and I know my constituents will be happy if I keep my seat," she said. "But I'm not going to do a forecast. It's a long time between now and the next election.
"You have to remember that we came second in almost every riding in Alberta in the last election. I know people get excited about polls, but last I noticed we choose our government by voting, not by poll. We'll just see what happens."
That pattern she cited has shifted, however, since Trudeau became Liberal leader. In recent byelections – in Alberta and across the country – it is the Liberals that are coming second.
But they are also trying to play down expectations.
"You know, it's an uphill battle in Alberta, right? We have a lot of hard work to do," said Kang, the Calgary candidate. "This has been Tory country for a long time."
And the Conservatives have every intention to keep it that way.
Tuesday evening, the party sent out a fundraising note to their supporters asking them for help to "keep Alberta Liberal free."
"Help us keep Alberta in Conservative hands – Donate $5 (only $1.25 after your tax credit) today," said a message signed by Conservative Wetaskiwin, Alberta, MP Blake Richards.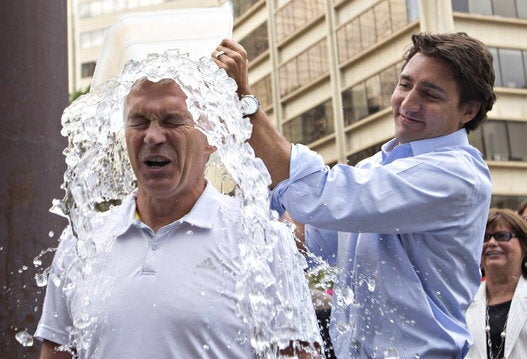 Liberal Summer Caucus In Edmonton