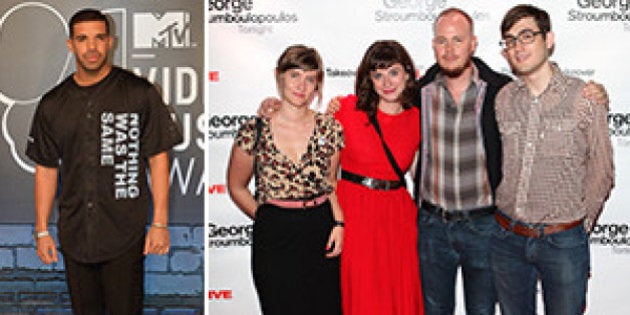 The Polaris Music Prize Gala will see six of the 10 "short list" nominees perform with two more in attendance and two others not appearing.
Two other nominees will not be performing nor will be in attendance: Drake and Timber Timbre. When contacted via Twitter, organizers replied Drake was performing the same evening at the Hollywood Bowl while Timber Timbre "can't be there." There's no word if either Drake or Timber Timbre will send video messages to show during the gala.
Organizers also announced the 11 jurors who will convene on Sept. 22 to decide who will walk away with the prize and $30,000 cheque. They are: Adam Bowie (Fredericton Daily Gleaner), Lorraine Carpenter (CultMTL), Stephen Cooke (Halifax Chronicle-Herald), Jessica Émond-Ferrat (Journal Metro in Montreal), Luke Fox from Exclaim Magazine, freelance writer Liisa Ladouceur, Melody Lau of Much, Julia LeConte of Now Magazine, Stephanie McKay (Saskatoon Star-Phoenix), freelance writer Alan Ranta and Mark Teo of AUX. The jury is culled from roughly 200 journalists, bloggers, programmers and broadcasters across the country.
Actor Jay Baruchel will host the gala and will be streamed live on Aux.tv. Live audio broadcasts can be heard on Sirius XM Iceberg (Sirius 161) and The Verge (XM 173). Last year's winner was Godspeed You! Black Emperor for their album Allelujah! Don't Bend! Ascend!