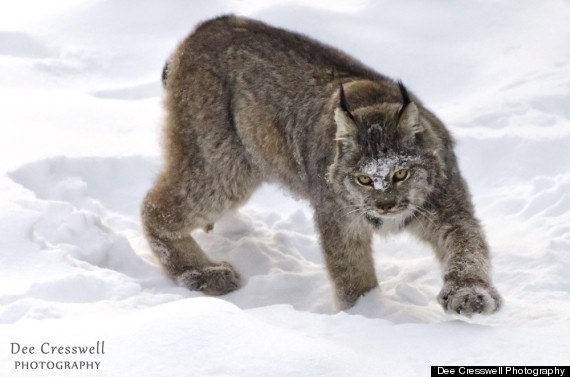 It's difficult not to be captivated by Alberta's beauty — the people, the mountains, the prairie and the animals.
So we're excited to introduce to you a new feature that captures Alberta, quite literally: The Huffington Post Alberta's Photographer Of The Month!
We came across Dee Cresswell's work a while back and were instantly taken by how she's able to capture the expressions of the animals she photographs — even the birds!
Dee was kind enough to answer a few questions and share some of her images with us.
Q: Where did you grow up and where do you currently live?
A: I moved around a bit as a kid, but I'm from England and grew up there for the most part. I've lived in Calgary for about seven years.
Q:How long have you been shooting photos?
A: I got my first camera (a Kodak Disc camera) when I was seven, so I guess you could say I've been shooting since then. I've only been taking it seriously for the last few years though. I can't say I'm completely self-taught, as I've learned plenty from the people around me, but I have no formal training in photography.
Q: What about Alberta inspires you?
A: Alberta is amazing. There is so much to experience here. The scenery for starters. Also, the wildlife is so diverse. Alberta is just as beautiful in winter as it is in summer, if not more so. Snow, fog and frost create winter wonderlands wherever you look. Then in summer, we have impressive storm clouds rolling through, across the colourful patchwork of farmland, as well as a wonderful variety of wildflowers.
Check out some of Dee's work in the slideshow. Interview continues below.
Q: How patient do you have to be to photograph wildlife? Have you ever waited a really long time for a certain shot?
A: I'm not a very patient person, so I'm not one to hang around for a long time waiting for a particular shot. I also don't like to spend too much time near any one animal. However, I have had to wait on many occasions for the animals to just look my way. Sometimes it feels like forever waiting for an owl to stop turning its head from side to side, and finally look directly at me.
Anyone who's ever tried photographing bears while they're eating, knows that you need to be patient. They can go for ages just munching away with their heads hidden in the vegetation.
Q: What advice can you give to people who are interested in taking photos of wildlife in Alberta?
A: I would pass on the best advice that was given to me, and that is to just get out there. The more time you spend exploring Alberta, the more you'll see. The more you see, the more photography practice you'll get, and the better you'll get to know your subjects.
Research the wildlife you're interested in to learn more about their activities year-round — you're not going to get many grizzly bear photos if you only look for them in January!
When you find a wildlife subject, don't just snap away, spend some time observing their behaviour. Get to know when they seem relaxed, and when you're stressing them out, then stop stressing them out! My last bit of advice is a warning — you should be aware that wildlife photography is highly addictive!
Q: What's the most unusual, remarkable thing you've ever seen an animal do?
A: Watching a cougar strut casually past a black bear on a golf course was pretty unusual. Also, seeing a fully-grown black bear hanging upside-down in a tree eating catkins was very impressive.
Q: Have you ever found yourself if a scary situation while out taking photos?
A: The scariest situation I can think of was when I was out on my deck in the pitch black, photographing an incredible Northern Lights display. There's something a little spooky about the aurora as it is, but while I was out there the local coyotes started howling. It sounded like 20 of them out there in the darkness, and it really felt like I was surrounded. I was just a few metres from my back door, but I still kept shining the torch across the yard because they sounded so unnervingly close. It really gave me the shivers.
Q: What do you like to do when you're not taking photos?
A: Mostly I just love being outdoors. Whether its driving the backroads in some random direction away from Calgary, or going for a walk in the mountains or local parks.
Follow Dee's work online:
Are you interested in being Alberta's Photographer of the Month? Email us and we can chat!
Like this article? Follow our Facebook page

Or follow us on Twitter