Like you, we've spent the last month playing Kim Kardashian Hollywood. So, also like you, we are convinced that we're friends with the Vogue cover girl.
Naturally, this makes criticism of her style and fashion choices hard to take. First: our avatar is now dressed like she is, and we think our avatar looks damn good, so step off. Second: over the last year, the most controversial Kardashian has created an aesthetic she can be proud of. She's cultivated a wardrobe full of pieces she pulls off perfectly, and that's actually the point. (Contrary to popular belief, stars aren't really like us.) We're not supposed to be able to wear the same things as Kim, but we can absolutely learn a thing or two.
So to convince her haters otherwise, here's why Kim Kardashian's style actually rules. Or more specifically, 10 important lessons she's taught all of us.
Story continues below slideshow: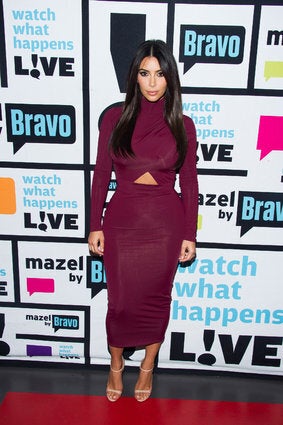 In Defence Of Kim Kardashian's Style
1. Kim Adapts Trends To Suit Her Body Type
Currently, mock necks, cutouts, and bandage dresses are waiting for each and every one one of us. Unfortunately, 0.0001% of the population can carry any of those off, so we've all quietly backed away, letting 2014 do its thing (while happily tying shirts around our waists). But not Kim: embracing all three trends simultaneously, she structures them in a way that actually does herself justice. The silhouette of the dress shows off her shape and the cutout at her waist balances her high collar. Could you or I do this? Probably not. (But Kanye doesn't style us – and if he could, we're sure he'd find a way.)
2. Kim Doesn't Camouflage
From the womb we're told to "camouflage" the parts of our bodies that aren't completely society-approved. Obviously, this is the worst, and yet, here we are. But enter: Kim Kardashian. Proudly curvy, she not only religiously wears pieces that give a platform to those curves, she wears pieces that emphasizes them. And as she should! Why try to be something you're not? Why try to aspire to some unrealistic body type or beauty standard? Kim Kardashian is and always will be Kim Kardashian, and as such, she will make you recognize.
3. Kim Wears With Confidence
Well, duh. On a recent Jimmy Kimmel appearance, Kim Kardashian basically wore pajamas. Sporting a corset top and a glorified robe (with slicked-back hair), Kim not only looked graceful and refined (unlike those of us whose pajamas are old shorts and a free Guinness t-shirt), but she beat Kimmel at a baby diapering challenge. Because of course she did: anyone in loungewear on late night will always win at any challenge you throw her way. (See: why next year we'll be writing about how much money Kim Kardashian's Selfish made.)
This isn't so much a "defence" but a reminder that it is okay to mix prints, and please mix prints it makes everything interesting and you deserve it. Here, Kim pairs a sheer, metallic-looking long sleeve shirt with a leopard print pencil skirt, then (then!) pops the look with a lime green belt because of course she does. (Also, the belt brings up the patterns so it doesn't look like she's clashing. Which she would never, we will add. As her personal friends, who knows her personally.)
6. Kim Follows Her Own Fashion Rules
If you notice Kim Kardashian's style (which we do, clearly), you'll notice that she tends to abide not just by the same colour code, but also by the same shapes. If her top is baggy, her pants or skirt will be fitted (and vice versa). Her dresses also follow the same code: usually donning a silhouette-hugging style, Kim finds new ways to create the same shape. And while she may toy with patterns or cuts, her waist and hips are usually accentuated and abiding by what seems to be her own rules.
7. Kim Keeps It Occasion-Appropriate
Here's another myth we need to dispel: Kim Kardashian dresses appropriately for whatever event she's attending. Case in point: her distressed jeans, t-shirt, and leather bomber while out and/or about, all of which fit under the umbrella of "things we can all actually wear and already probably own." See? Contrary to what the game tells us, Kim wears jeans. (Of course, if you watched "Keeping Up With the Kardashians," you already know that.)
8. Kim Knows Her Accessory Limits
Less isn't necessarily more with jewelry, but there can sometimes be too much. (Like, if you were literally covered in gems.) Fortunately and unsurprisingly, Kim avoids going overboard, and opts for minimalist pieces, or, when making a statement, avoids all other accessories to draw attention to the focal point. Case in point: layers of gold necklaces worn with her cream and gold dress. She brings attention to the metallics which complements the dress' light tone – and then a ring to cap it off. (Awards new Kim Kardashian Hollywood level.)
9. Kim Is Not Afraid To Re-Wear
We're going to keep this simple: Kim Kardashian loves her leather bomber because she should. And, like any of us would, she wears it all the time. And yes, she may sleep on a bed made of money, but no, she's not about to let a flawless leather jacket go to waste. Insert: emoji hands of praise here. (See? Bet you never thought she'd be someone you can relate to.)
10. Kim Understands That Fashion As Art
We're a firm believer that you can't really do fashion or personal style wrong – it's subjective. Kim Kardashian abides by this. She wears every outfit like it's an art piece, as exemplified by the Balmain dress she wore in Paris just before her wedding. (It's beaded, textured, and includes a legitimate art print, for heaven's sake.) Ultimately, whether it's a bomber or a pencil skirt or a designer dress, fashion is art (and what you make it). And damn it, Kim gets that, so I will defend her and no one can stop me.