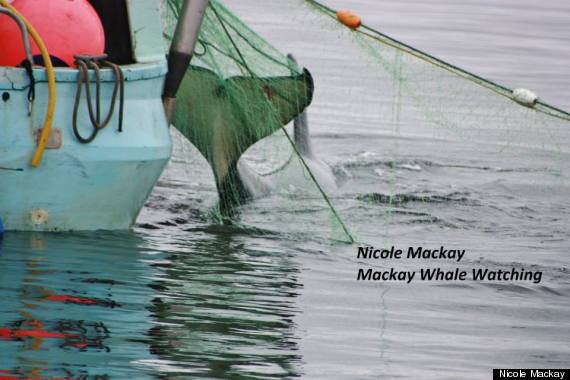 A whale-watching boat tour near Port Hardy, B.C. ran into quite a sight as a young killer whale struggled to get free of a fishermen's net, while her frantic family surrounded her.
Nicole Mackay, co-owner of Mackay's Whale Watching wrote about last week's incredible encounter on the company's Facebook page.
A fisherman on the water radioed a distress call that he had a whale caught in his fishing gear, said Mackay. Her boat with customers onboard happened to be nearby. She recognized the seven-year-old I103 orca from pod I15 entangled in a gill net.
The veteran fisherman "worked tirelessly to untangle the young whale," Mackay wrote.
The tangled orca went underwater for about 12 minutes, which terrified Mackay. She told CBC News that whales typically hold their breath for about five minutes.
While the young whale was underwater, her family also dove down to stay with her.
"We had the hydrophone underwater and they were sounding very frantic — their calls weren't their typical calls," Mackay told CBC News.
In the end, the fisherman was able to cut through his net and free the whale. She swam straight to her family and towards an island where research vessels were able to monitor them for several hours to make sure they were OK, said Mackay.
"A very rare event that I have never seen," said Mackay whose family has been in the whale-watching business for 30 years. "We were all happy to see her swim away. It was something I personally never want to witness again. Many thanks to the fisherman for freeing her and saving her life. I hope he is able to repair the damage done to his net so he can continue his livelihood."
B.C. Killer Whale Caught In Fisherman's Net