Julia Louis-Dreyfus won an Emmy for her role in Veep at Monday night's Emmy awards but it was her post-win kiss with actor Bryan Cranston that stole the show.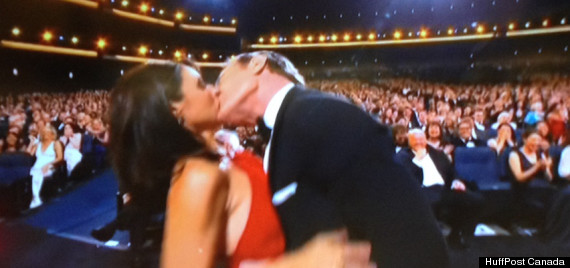 The kiss definitely got the attention of viewers at home and more than one celebrity.
I wish I was Bryan Cranston right now.

— Anna Kendrick (@AnnaKendrick47) August 26, 2014
Bryan Cranston licking his lips lord give me strength #emmys2014

— Emily (@EmTrack2) August 26, 2014
Yes son, I was watching the Emmys when Julia Louis-Dreyfus and Bryan Cranston furiously made out. And yes son, it changed my life. #Emmys

— Tori Chancellor (@teechancellor) August 26, 2014
We have to admit, the lip lock was pretty magnificent. Let's take another look at it.
And of course, Cranston, caps it off with this hilariously creepy lip trace.
The pair had just presented an Emmy a few minutes before and Louis-Drefyus made a joke about Cranston appearance in a Seinfeld episode and his Clark Gable like moustache.
The Best Looks From The Emmy Red Carpet