Giants have descended upon Vancouver's popular Granville Island.
Six industrial concrete silos there are being transformed into a vibrant mural, thanks to internationally acclaimed street artists, OSGEMEOS.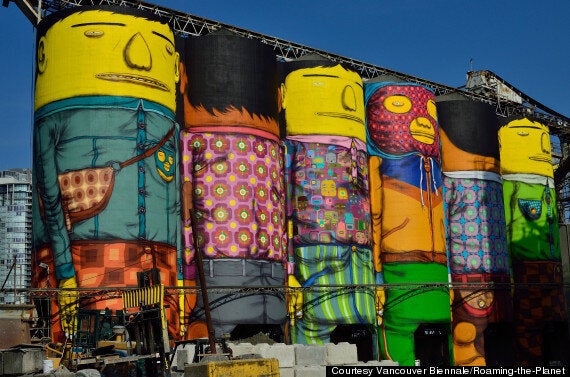 OSGEMEOS, which literally means "the twins," is made up of Brazilian twin brothers Gustavo and Otávio Pandolfo. They're known for their public art, transforming buildings and walls into colourful spray-painted characters.
The Vancouver project is the duo's biggest to date.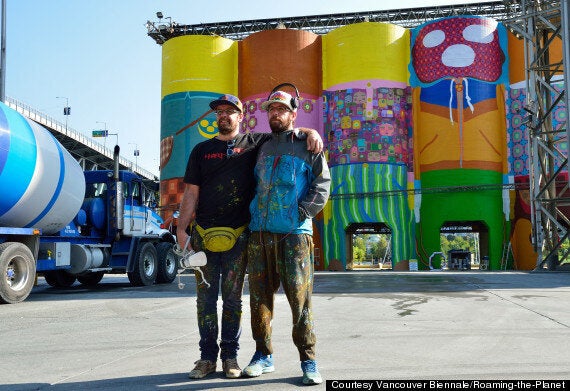 The 70-foot tall, 23,500-sq.-ft. mural is part of the Vancouver Biennale, an event that celebrates public art. Because of the sheer scale of the $126,000 project, the non-profit event is seeking donations from the public.
The paint for the mural, for example, will cost $46,000.
"If you love it, every $5 counts," Miriam Blume, the Biennale's marketing director, told The Huffington Post B.C. "We're putting the 'public' back in public art."
While the mural will be completed by Sept. 6 no matter what, the Biennale is hoping art lovers will contribute to a crowdfunding campaign. Donors can receive perks including a rare limited edition poster — OSGEMEOS rarely allows merchandising.
The 2014-2016 Biennale has also featured work by Brazil's Hugo França and is set to showcase something by Chinese artist and activist Ai Weiwei.
See more photos of the OSGEMEOS mural: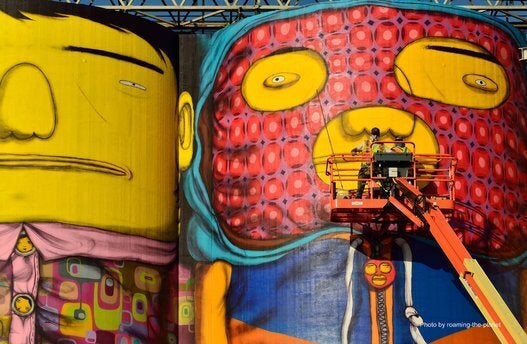 OSGEMEOS At Vancouver Biennale