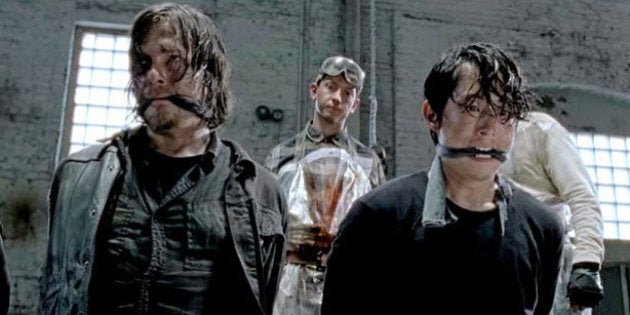 Greg Nicotero is back in Los Angeles. The co-founder of the KNB EFX Group is in the middle of a well-deserved week off from the Georgia set of "The Walking Dead" "to recharge our batteries before we go back into battle."
Nicotero and his team have just wrapped filming on the Season 5 mid-season finale of the hit AMC show where he supervises the makeup effects and is an executive producer. He also directed three Season 4 episodes and will direct four more, including the opener, for the upcoming fifth season, which starts up in October.
Time off or no, Nicotero is eager to talk up the August 26 DVD and Blu-ray release of "The Walking Dead" Season 4, which saw Rick (Andrew Lincoln) and the survivors of the prison make their way to the supposed safe zone Terminus. He even drops a few hints about the direction of Season 5, including what to be on the lookout for in the season opener.
** Note: Nicotero drops several Season 4 SPOILERS. **
Season 4 was really well-received. Were you pleased by that reception?
Greg Nicotero: Very much so. I feel like Scott Gimple, our showrunner, was very passionate about this season and making sure every character had a story that would serve them. And there were a lot of things that were planted in early episodes that paid off later on down the road. Everything that Rick does in the first episode, the fact that he has hung up his gun and has decided to be more attentive to his children, who are the future of his group, all those things -- teaching the kids how to defend themselves -- pay off later with losing Mika.
Your team processed some 9,000 zombies in Season 4. How many do you envision making up in Season 5?
Oh, good lord. I can tell you that in the mid-season finale that we just finished shooting there were upwards of 800 walkers for just that episode. I haven't done the tally yet for this season, but being out in the world it's a little trickier to avoid zombies. When you're in the prison, you have a safe haven. The zombies aren't so much of an everyday occurrence, whereas in this season we're out in the world at some point so they're there.
The special edition version of the Season 4 "Walking Dead" Blu-ray includes a McFarlane Toys sculpture of the Tree Walker, a zombie pinned to the ground by a fallen tree. He has become a fan favourite despite only being in two shots.
That was a script by ["The Walking Dead" creator] Robert Kirkman, and I loved the description. I was sitting in a concept meeting sketching what that walker would look like. And within half a day I had my team in Los Angeles mock up this sculpture where the tree had fallen over onto his legs and his chest had caved in, but the thing looked like it had been sitting out in the elements for a year. To execute the actual zombie itself we dug a hole and hid the actor's legs. Then we put the fake legs over top of it. Ironically that makeup took three hours on the day, and the first day we did it we had a torrential downpour. So just as we were finishing the makeup on the actor after three hours it started raining so badly that we had to scrap the scene, clean him up, and then do the makeup again the next day.
The Season 4 Blu-ray sees you talking about tribute zombies, which are homages to some of your favourite horror films. Season 4 included zombie tributes to Mario Bava's "Black Sabbath," George A. Romero's "Day Of The Dead," and Lucio Fulci's "Zombie." Why tribute zombies?
You know, it's something that I do in the episodes that I direct. I feel like "The Walking Dead" in its entirety is a tribute show. It's a tribute to "Night Of The Living Dead." It's a tribute to all those shows I watched growing up. So to be able to have that opportunity to pay tribute to those shows by putting in little Easter eggs for fans of the genre to pick up on, I love doing it.
Should fans be on the lookout for more tribute zombies in Season 5?
Yes, I would say that the tributes continue. In Episode 501 there is a tribute, but it's a little more subtle, and this time it's not necessarily a zombie. But it's just something that I put in there.
Talk about the direction of Season 5. How closely does it hew to the comic?
We've been pretty loyal to the source material, but as the show has proven, we're able to take detours, concepts from the graphic novel and fine-tune them into the storyline of our show. For example, in the comic book, when The Governor attacks the prison, it's Tyrese that he has as his hostage and decapitates Tyrese, whereas in our show it was Hershel, and I think that was tremendously effective.
And we do the exact same thing this season. We hit certain milestones from the comic book that are tailored to our show and our characters, and certain storylines that we see in the comic book we will see in various places through Season 5.
"The Walking Dead" Season 5 premieres Oct. 12 at 9 p.m. on AMC. "The Walking Dead": The Complete Fourth Season will be released on DVD, Blu-ray, and in a limited edition "Tree Hugger" Blu-ray set on Aug. 26.