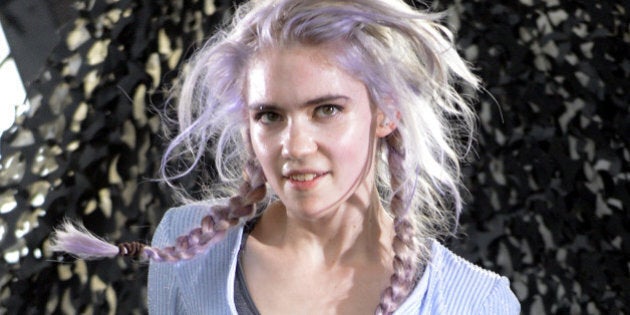 A public decision by Grimes not to partake in the viral ALS "Ice Bucket Challenge" resulted in some deleted tweets and advice from former My Chemical Romance singer (now solo artist) Gerard Way.
On Saturday, Richie Hawtin, Skrillex and Dubfire took the "Ice Bucket Challenge" and nominated Grimes to do the same within a 24-hour period.
The Canadian electronic pop star also known as Claire Boucher declined, stating she would not be donating proceeds towards ALS.
"However, I would like to say that I don't feel great about wasting water in this California drought, but I will donate money," Grimes wrote. "However I will not donate money to this foundation because of their record of testing on animals, but I will donate money to the Malala fund because education is the key to ending almost every issue that faces humanity and our world today." A subsequent blog post showed where Grimes made the donation to the fund in honor of Richie Hawtin.
The posts and Grimes' response to the challenge were quickly picked up by Spin and Billboard. Those news items and others resulted in a series of tweets by Grimes later Sunday evening.
Grimes followed that tweet with a a few more tweets which she quickly deleted from her account. Some of them included the following taken from screen grabs:

The musicians tweets seemed to catch the attention of Gerard Way who quickly replied to Grimes with the following:
Grimes quickly replied to Way and thanked him:
Early Monday morning, Grimes posted a reply to a fan whose father had passed away from ALS. "Your statement almost comes off as you prioritizing the lives of rodents and insects ahead of victims of ALS," @loganecholls wrote. "I'm sure that's not really your intention, here, but would you mind discussing this?"
"I acknowledge that in some situations it has been beneficial, but I still don't feel good about it," Grimes wrote. "I figured that responding to the ALS challenge would still bring awareness to the issue, even though I was choosing to donate to a different cause.
"I've noticed that some press has been characterizing my tumblr post as a "protest" against the challenge. I am absolutely not protesting anything, and I'm very upset that some people are choosing to depict my gesture in such a sensationalist way. No one deserves to suffer from ALS. I tried to do what I thought was right, but it was probably too complex of an issue to try to address on social media in a few sentences.
"I decided to donate to a different charity because I saw that over 50 million had been raised, and I figured there were other issues that might need the help considering that the ALS challenge was doing so well," Grimes continued. "Im living in Cali, so I didn't want to waste the water as we are in a drought, plus there are millions of people worldwide who don't have access to clean water. I'm so sorry that you lost your father. ALS seems like a nightmare, and I'm so happy that there has been this huge public outpouring of support for the cause. I'm deeply upset that people are suggesting that I think otherwise, or that my original statement was unclear. I hope you aren't offended, and if you are I apologize from the bottom of my heart.