Although he wasn't known to many last week, Jesse Helt has become world famous for his brief appearance at the MTV Video Music Awards Sunday night.
Helt, 22, gave the acceptance speech on behalf of Miley Cyrus after she won video of the year honours for "Wrecking Ball." "I am accepting this award on behalf of the 1.6 million runaways and homeless youth in the United States, who are starving, lost, and scared for their lives right now," he said. "I know this because I am one of these people. I've cleaned your hotel rooms, I've been an extra in your movies, I've been an extra in your life."
Now more information is emerging regarding Helt's backstory -- and, sadly, the Internet is reacting by attacking both Jesse and Miley.
According to an in-depth article by The Daily Mail, Helt was raised in Salem, Oregon but had dreams of "making it on his own" in Los Angeles.
"Jesse's had ups and downs like anybody else... he didn't wanna give up and run on home to mommy, but only he knows the reasons, that's for him to say," Helt's mother Linda Helt told the publication. She also said her son's situation in Los Angeles was so dire he phoned her at one point to tell her he was literally "living in a bush!"
Jesse, who has three brothers and sisters, attended elementary and high school in Salem and received his GED at Chemeketa Community College. Helt tried his hand at being a model, posing for photographer Zell Thomas while also creating a profile for the site Model Mayhem. "I'm Jesse and I just moved here from Salem, Oregon about a year ago," the profile -- which has since been removed or taken down but is preserved in screengrabs -- says. "If your interested in working with me please shoot me an email. I'm not turning down any work right now and would love to work with all kinds of photographers.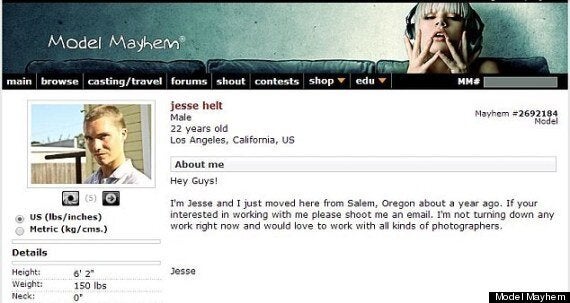 It's also been reported that Helt has had his run-ins with the law. Starcasm.net reports Helt was booked three times at the Polk County Jail in Washington state between 2010 and 2011. The initial booking on Oct. 30, 2010 was on charges of first degree attempted burglary and second degree criminal mischief. In April 2011, he was booked for breaching probation for criminal trespassing. Another probation violation took place four months later. The website also noted that Helt made the "Most Wanted" list in February, 2012 for Polk County Community Corrections with a first degree trespassing offense.
Article continues after slideshow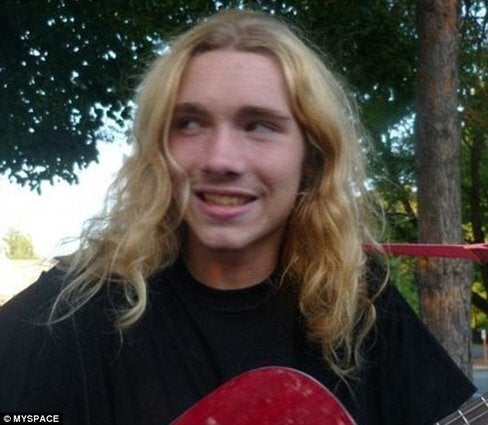 Miley's VMA Date Jesse Helt
As for his MTV VMA appearance, Helt reportedly met Cyrus earlier last week when she dropped into a My Friend's Place, a youth homeless shelter on Hollywood Boulevard. "I just didn't realize my platform, I didn't realize my power," Cyrus told Ryan Seacrest regarding taking Helt to the ceremonies. "If I'm going to be given this loud of a voice and this big of an image and this big of a platform and this huge of an opportunity to talk to young people in America right now, what am I really trying to say? Because I don't think what I was trying to say is what happened the year before." Cyrus was referring to her racy twerk-riddled performance with Robin Thicke at the 2013 VMAs.
The Statesman Journal reports Cyrus took care of Helt after the ceremonies, putting him up at the BLVD Hotel and Spa in Studio City for the weekend as well as purchasing him a new outfit to wear. He got to keep the "Moonman" award and Cyrus is also seeing that Helt gets back on his feet
"She was engaged with him through the entire week and that was out of concern and care and learning," My Friend's Place executive director Heather Carmichael told the New York Times according to the Sydney Herald. "She wanted to do right, it's a cause close to her heart. I know he's working with her on what comes next in his life. I trust they are working on a plan that is going to benefit him."
As for Helt's reference to My Friend's Place during the speech and how people could donate to help, it definitely has resonated. The New York Times reports more than $200,000 was raised for My Friend's Place less than 24 hours after Helt made the speech.
News of Helt's appearance naturally was met with praise for Cyrus but with derision by others with some going so far as to state Helt wasn't "homeless enough" or didn't look the part.
A series of comments on Buzzfeed's article regarding Helt read as follows: "I know I'm gonna get a lot of flak for this comment - but he was a college drop out and couldn't get a job to support himself and accepted money from Miley Cyrus instead of reaching to his family for help?" Jesse Sandhu wrote. "And he doesn't seem really nice hating on lazy/fat people. I am really confused at his so called "troubled" homeless life."
"Homeless by choice, essentially," Helen Dashiell wrote. "I don't feel bad for that." Meanwhile, others criticized Cyrus for picking the "hot" homeless person and not someone with ragged, tattered clothing and "holes in his shoes."
Similar comments dotted other stories on Helt's background. On Hollywood Life many commenters attacked Miley personally, blasting the speech as a "PR stunt" and even writing "Don't mention that she pushes drugs which creates homelessness. Don't mention that the hours spent taking selfies, doing drugs and pasting kiddie toys to bongs could be spent volunteering in a homeless shelter. Don't mention that just one of her expensive Chanel necklaces could house this guy for a year. Do mentioned that she found the energy to cry for this cause. She must be very concerned for her gutterish image. Its ALWAYS all about her. She really believes that we are all stupid mindless lemmings."
Others wrote "This isn't legitimate homelessness. This is Hip homelessness, there's a difference" and "Way to pick a fake prop Cyrus. You are a lost cause."
Over on Spin, readers echoed these complaints. "He's homeless by choice and has loving parents who say they're proud of him. No different than any fool moving to Hawaii and realizing they can't afford it. Try actually being sexually abused by your parents then thrown out onto the streets for good. THAT IS HOMELESS. This 'youth' has a facebook page and a modeling portfolio. I sure never had a computer or wifi access when I lived in the street," wrote one commenter.
Another declared "Everything that Miley is associated with is either fake, or the worst."