What do you think of when you see this image? What does this character look like to you?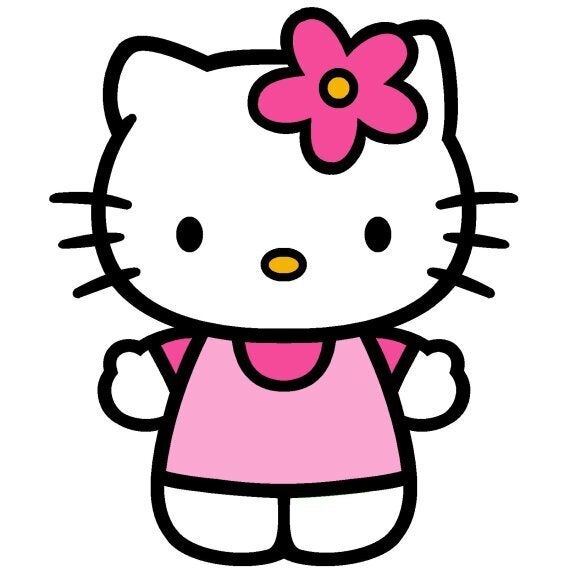 A cat right? After all, it's Hello Kitty. This character's name is Hello Kitty. She has pointy ears, whiskers, and a cute little tail that sometimes pokes out of her dress or overalls or whatever outfit she's wearing at the time. Little kids have loved her since she came to be in 1974, because she is cute and cuddly.
So, cat right? Nope, nope, NOPE.
In a shocking L.A. Times exposé of what is likely the biggest childhood fib since Santa Claus, a Hello Kitty expert revealed that the beloved, mouthless cartoon character is not, and never has been a cat.
"She's a cartoon character. She is a little girl. She is a friend," says Christine R. Yano, an anthropologist from the University of Hawaii who has studied the Hello Kitty phenomenon for years. "But she is not a cat. She's never depicted on all fours. She walks and sits like a two-legged creature."
While you might think she's Japanese because she was created by Japanese company Sanrio, Kitty, the little girl whose full name is Kitty White, is in fact a "perpetual third-grader" of British descent, according to Yano.
And she's right: a quick trip to Sanrio's official Hello Kitty biography confirms Kitty was "born" in the suburbs of London. She's also a Scorpio who stands "around five apples" tall and weighs the equivalent of three.
Another piece of her background also supports the notion she's human: Hello Kitty has a pet cat named Charmmy Kitty, given to her by her dad, George White.
Like her less-famous Sanrio friends, she seems to be comfortably stuck in an age-defying space-time continuum. Good thing she has the company of her twin sister Mimmy White.
This year, Hello Kitty mania is expected catapult with 40th birthday celebrations around the world. A five-kilometre run in Singapore, a large-scale museum retrospective in Los Angeles and the first-ever Hello Kitty Con are expected to bring together huge crowds of adoring fans.
But... not a cat?! The mind boggles.