Just when it seemed that the debate over right-to-work laws had calmed, Canada's most well-known conservative think-tank has released a report blasting the country's "biased" labour relations laws for stalling jobs and investment.
After assessing various labour relations laws in the private sector for their "flexibility" — defined for the purpose of their index as "less bias towards favouring unions over employers" — the latest report, released Thursday by the Fraser Institute, found that all 10 provinces lagged behind the 50 U.S. states.
The index focused on private sector unions and studied three categories: organizing a union, union security and regulation of unionized firms.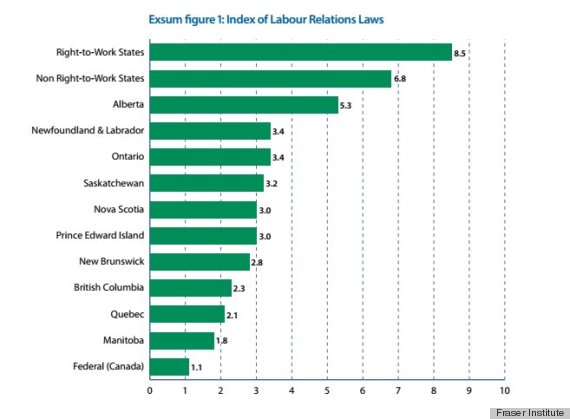 The 24 so-called U.S. right-to-work states were ranked highest. In those states, employees can legally opt out of paying union dues, which has had the effect of eroding the support base for unions. Labour unions argue that it has also had the effect of driving wages and benefits down as well as jeopardizing the quality of jobs for unionized and non-unionized employees alike.
Canada's labour laws are based on a 1946 Supreme Court decision that ruled union payments are mandatory for everyone who works in a unionized work environment because all employees benefit from having organized representation.
"The fact that many Canadians are essentially forced to join unions and pay union dues if they want to work in certain jobs is evidence of Canada's biased labour relations laws," said Charles Lammam, who co-authored the study.
Alberta was rated the least biased Canadian jurisdiction, followed by Ontario and Newfoundland and Labrador. The federal government and Manitoba ranked lowest.
"Jurisdictions with less biased and more flexible labour relations laws enjoy higher job-creation rates, lower unemployment and higher investment," Lammam said.
"Why? In part because flexible labour relations laws allow workers to more easily change jobs in search of higher pay or better working conditions, and allow employers to better respond to market changes."
Although Ontario ranked fairly high on the list, the institute said the province's laws are particularly damaging to its economy, whose biggest sector — manufacturing — has taken a big hit since the recession and which neighbours right-to-work-state Michigan.
Former Progressive Conservative leader Tim Hudak's platform for the recent Ontario election originally included the introduction of U.S.-style anti-union laws, but he backed away from it when it became clear how unpopular the proposals were. His party subsequently lost the provincial election in June.
Hudak contended that General Motors moved its Camaro production to Michigan because of the state's right-to-work laws, and he said Ontario must follow Michigan's example to prevent the loss of more jobs.
Unionization has come under attack in Canada recently, with critics saying the unions force employees to pay for political activities even if the workers do not support them.
Two private members bills have recently been presented to Parliament that would erode union power. Bill C-525 would allow secret ballots in union certification, and Bill C-377 would increase unions' financial reporting.
The report also argues that the requirement in many Canadian provinces that businesses alert the union before undertaking any proposed technological investment can slow advances and, in turn, productivity.
The Fraser Institute has previously argued that right-to-work states have seen more rapid employment growth than those without. Unions' research, however, has found that the jobs produced are both lower paying and lower quality.
ALSO ON HUFFPOST:
10 Best Jobs In The World