It turns out "naked sushi" isn't just something Samantha does on "Sex And The City."
Naked Sushi Inc., a catering company that opened in Vancouver this summer, displays its food on naked women. Yep. For real.
The company specializes in "the ancient art of Nyotaimori (Naked Sushi)," states their Facebook page. "Our team of professional staff and models will create an atmosphere of traditional Japanese elegance that will render your event unforgettable to your guests."
Story continues below slideshow: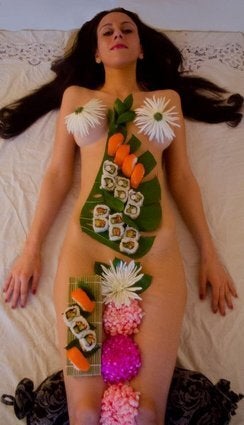 There are
, though, according to the company's website:
Patrons are not allowed to speak to or touch the models
Chopsticks are the only things allowed to pick up the sushi
Models must be treated with respect
No "lewd or inappropriate gestures or comments" are tolerated
UPDATE - Aug. 29, 2014: Naked Sushi executive chef Mike Keenan told Eater Vancouver the company has a food permit and business licence, but it's unclear if the venture meets official food safety requirements.
So what do you think: is naked sushi sexy or sexist?