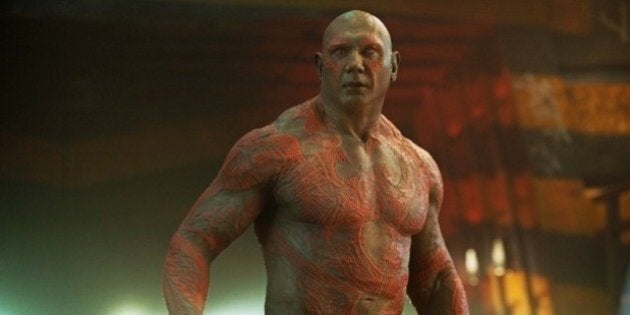 Legions of costumed fans descended on Fan Expo Canada on Saturday, with masses of crowds moving like molasses through the Metro Toronto Convention Centre. It's clear that the four-day genre convention is starting to outgrow the confines of the MTCC, but despite the delays getting from place to place, we still managed to make it to our planned panels.
First, Bruce Campbell ("Evil Dead," "Burn Notice") turned the tables on the fans who came to his panel with a little help from his "Evil Dead" director Sam Raimi's brother Ted. Then, Hulk Hogan answered fan questions with the help of "The Mouth Of The South" Jimmy Hart. Finally, fresh off his breakout role as Drax the Destroyer in this summer's "Guardians Of The Galaxy," fellow professional wrestler Dave Bautista revealed why Drax doesn't wear a shirt for most of the movie.
When fans arrived for the Bruce Campbell panel Saturday, it wasn't the traditional setup. Three chairs sat in the middle of the stage for a panel that was only supposed to feature Campbell himself. Then, instead of the the usual suspects from The Space Channel moderating the panel, The Bubba Ho-Tep actor brought his own -- Ted Raimi. An actor and director in his own right, probably best-known among the geeky set for playing Joxer the Mighty on "Xena: Warrior Princess." What was going on? These two were definitely up to something:
"What do I see here, Ted?"
"Three empty chairs with three microphones on them, Bruce."
"Who's in those chairs Ted? There's nobody in these chairs."
"No there isn't, but we should probably fill them."
"We should, because otherwise we don't have a panel."
"Because today is a little game called..."
In short, "You Are the Panel" was an impromptu game show where Campbell -- wearing his best Don Cherry sportcoat -- went into the crowd asking fans if they had any special skills they'd be willing to demonstrate on stage before the audience. Campbell walked around and found a nurse who demoed the finer points of CPR on a suddenly faint Ted Raimi. Two guys engaged in a voiceover-off judged by audience applause.
A guy with a moustache did a mean Marvin the Martian and a girl wearing a "My Little Pony" toque (Campbell called her "Rainbow Chicken") pulled her legs over her head and touched her feet to the ground while lying down.
The most talented in each round received a whole five dollars directly from Bruce Campbell's pocket. The ultimate winner was a woman who taught Ted Raimi how to belly dance. She even had a spare belly dancing belt so Raimi could emphasize his posterior and his new moves. For the first time ever, the Fan Expo faithful were the panel, and thanks to Ted Raimi and Bruce Campbell they had an absolute blast.
Bruce Campbell wasn't the only one to bring a special guest to his panel. Hulk Hogan surprised the Hulkamaniacs in attendance at his Q&A with his longtime manager Jimmy Hart. The two worked the audience like a veteran tag team with Jimmy running the mic through the crowd for questions and Hulk answering them from the stage.
The very first fan got right into it, asking Hulk what he thought of the diss rap from the late Macho Man Randy Savage. Recorded in 2003, it's called "Be A Man" and it doesn't mince words about Macho's hatred for The Hulkster.
"Randy was a good friend, brother, and I heard the song, but I didn't put it over," Hulk insisted. "I didn't react because Randy was in such a bad spot. Him and Liz [WWE's Miss Elizabeth, who Savage had married] were friends of mine and my ex-wife Linda. They lived down the beach from us and we hung out every single day. Randy and I, whether we were traveling, wrestling together or hanging out at the beach, we were together every day for 20 years."
Things started to go sour when Hulk suggested Elizabeth stay with he and Linda in Miami while he was off filming "Mr. Nanny," so Linda could get help with the kids. Even though she came down, Hulk never saw her for the rest of the trip and it became clear she was stepping out on Savage.
"I was in the shower getting ready to go to work at night and I heard 'Oh Yeah! I know you know where she's at!' I came out of the shower and there's Randy poking his finger in my ex-wife's face. I showed Randy where Liz was staying and took him to the room. Once he got to the room, I ran back to my room and about 20 minutes later there were 100 cops outside."
From that point on, Randy always at least partially blamed Hulk for the disillusion of his marriage.
"He got hurt real bad. She dissed him and all the stuff that went down with the music, I just let it play out," Hulk continued.
"I did see him one time, four years before I was about to sign with TNA, and I went to shake his hand saying, 'Hey Randy, I got nothing but love for you man.' -- 'Screw you Hogan!' -- I said, 'Oh really? Why don't we go outside and you can kick my ass like you said you would?' and he just sat there."
Thankfully, the two got a chance to patch things up before Savage's death in 2011, after Hogan unexpectedly ran into him at a doctor's office.
"He was married to his high school sweetheart and we made friends right before he passed away, but the thing was, Randy was so intense that I knew better than to jump on that bandwagon and respond. I watched some of the things he said about me, but that wasn't him -- that wasn't the real Randy. He was such a good guy. The negative stuff wasn't him. He was just hurt real bad, brother."
Following Hogan's appearance, another former WWE wrestler hit the stage. Dave Bautista chatted with fans about his newfound success as Drax the Destroyer in "Guardians Of The Galaxy."
Bautista told the audience that his favourite Drax line happens when he inadvertently calls Gamora a green whore, but that there were even better lines that were left on the cutting room floor. Hopefully they'll see the light of day as DVD/Blu-ray extras.
"There's a scene where they explain why Drax doesn't like to wear shirts. He doesn't like to wear shirts because he's got sensitive nipples."
James Gunn, the film's director, was writing for Drax while the movie was shooting, so often Bautista wouldn't get his dialogue until that day's rehearsal.
"I go to rehearsal one day, I'm reading the sides for the scene, I come up to the sensitive nipples line and I stop and I look up at James and he's in his chair giggling. I go, 'I don't remember this line being in the script,' and he bursts out laughing, 'Because I just wrote it last night.' So yeah, that's why Drax doesn't wear shirts -- typical James Gunn."