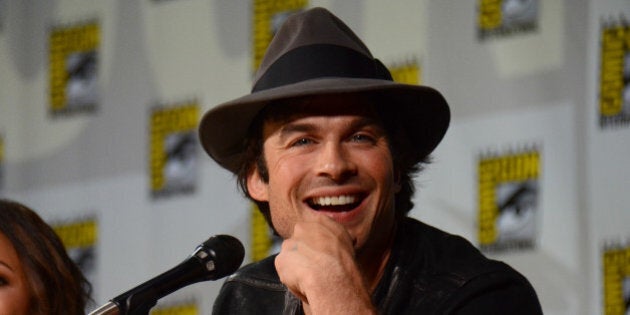 Couldn't make it out to witness the magic? No problem, we've got your ringside seat to the greatest anecdotes from the best celebrity Q&As of the day. So sit back, relax and let's run it down for you.
The first panel of the day promised to blow our minds -- and did it ever. It was such a big deal that Richard Ouzounian, resident theatre critic at The Toronto Star, volunteered to moderate. It turns out he's a major (Walking) Dead Head.
That's right, the zeitgeist zombie show was first up, but there wasn't just one cast member or two, or even three. No, Fan Expo pulled out all the stops by bringing five cast members from the show (three living and two deceased) all together on one stage. Maggie (Lauren Cohan), Michonne (Danai Gurira), and Daryl (Norman Reedus) made up the living characters, while Merle (Michael Rooker) and the evil Governor (David Morrissey) were brought back from the dead for the panel.
As the five spoke to their positively rabid fanbase, it became clear that while "The Walking Dead" is an emotional roller-coaster for the viewer, it's even more emotionally and physically taxing for the cast and crew. Danai Gurira, an experienced playwright and theatrical actress, compared the experience and the emotional headspace she must put herself in, to a war zone.
"It felt to me like a war zone. It felt very real that way and very visceral," she said. "One of the plays I researched was about war, so I'd gone to a war zone area and it really felt similar to what the show had managed to make very tangible, which is that idea that when everything is gone and all the structures we're used to go away, who do you become?"
"Thankfully, we haven't experienced that for a long time on this soil, but there are other parts of the world where it's happening all the time and you see it in the news everyday. The structures, the homesteads, the ability to pick up the phone and get help have all gone away and that's real in the world right now. The thing I love about this show is that it asks the question that a war zone asks of you, which is: where's your humanity going to fall when all those things go away? Will you become The Governor or will you become someone who transforms so beautifully like Daryl?"
Brought To You By The Letters W, T And F
Following the extreme wattage of "The Walking Dead" panel, the temperature started to rise at the Metro Toronto Convention Centre and all the ladies in attendance started to feel a little faint. That's because the smouldering Ian Somerhalder, who plays the bad boy vampire Damon Salvatore on "The Vampire Diaries," was up next.
Sure there was a Q&A, but most women could barely get their question out between the giggles and "Oh-you-shouldn't-haves" when Somerhalder looked in their direction. Similarly, he could barely answer those questions thanks to the din of cat calls and "TAKE OFF YOUR SHIRT!" requests.
One woman did manage to ask, "If you could be any mythological creature, which one would you be?" She was probably expecting some sparklingly ripped centaur with long flowing Fabio hair or some other fantasy, but what she got -- guaranteed -- had people looking at the heartthrob in a whole new light:
"You guys ever watch 'Sesame Street'? Well, I think sometimes the writers get angry at the producers and they write things that are wildly inappropriate," he started.
"There was a very cool little creature on 'Sesame Street' called a Gerbilcorn. It's a little gerbil with a unicorn spike. Here's where it gets weird ... when you're like, 'Wait! What? Our kids watch this?' If you're a little kid in the audience -- ear muffs."
So these little Gerbilcon, when they get mad at you, they steal your magic wand and run into little holes in the wall called Gerbilcorn holes ... WTF man! What's going on with youth programming? So, if I could be a mythical creature, I'd be a Gerbilcorn."
Speaking of mythical creatures, there was a hobbit in the house. That's right, Elijah Wood made his first appearance at the Expo since 2005 and things took a turn for the weird when one Harry Potter cosplayer asked the actor if he and Daniel Radcliffe would ever go to an event dressed as each other's characters.
"That would be really hilarious just for the fact that it happened in the world. Something would collapse I feel. The world would turn in on itself or something," said the star, while making it clear that he is very much among his fellow geeks while attending events like Fan Expo.
"It's so funny, there's a film festival I go to every year in Austin, Texas called Fantastic Fest and they have this thing called The Fantastic Debates. The basic setup is they have too people debating a topic, often times it's comical, and then it ends in a real live boxing match."
"I did it once with Dominic Monaghan. I had a couple of weeks to think about well, what could we debate? But, we kind of agree on most things. I was really grasping at straws, but i ended up being a debate of the merits of World of Warcraft. I don't like World of Warcraft -- I'm sorry -- but he does, and I find it so f**king weird that he does. This guy was never a gamer and then we met and now he is. I'm a console gamer and he still called them computer games, even though we were playing a Playstation."
"At first he'd dabble in sports games. That was his way in because he knew FIFA and stuff. But, all the f**king sudden, he got really into it and he's learning a trade in World of Warcraft and got real nerdy about it. I'm like, 'Who are you?'"
The two debated Monaghan's new love, but it didn't go very well for Wood.
"I think he actually beat me in the debate and he kicked my ass on top of it," he recalled.
As if the debate went so well for him, the folks at Fantastic Fest proposed he debate again, but this time, debate Daniel Radcliffe. Needless to say, Wood's a little hesitant.
"Objectively, if I stand back from that, I know that's a pretty f**king funny thing, but I don't want to fight him and I don't think there's really anything to debate. What's the debate: Frodo's better than Harry Potter?"
Wood had actually met Radcliffe on the set of "Harry Potter And The Prisoner Of Azkaban," but now that Radcliffe is a little older, Wood admits the two actors are often mistaken for each other.
"I was in an elevator once. You know that thing where it's kind of awkward if it's just you and one other person in an elevator? I was just standing there and I could see out of the corner of my eye, this man was totally getting up the courage to say something and waited for like six floors. I just have that feeling that he's going to say something. Then, right before the door opens, he says, 'Harry Potter,' and I said, 'No.' The door opened and I left."