B.C. government tests continue to show that water near a massive mine tailings pond spill is safe for drinking and aquatic life, but a scientist who visited the area isn't so sure.
Alexandra Morton, an independent B.C. biologist in B.C., travelled to the site of the August spill to sample the water herself.
"Frankly, I don't believe that this massive injection of mine tailings into pristine Quesnel Lake is not dangerous to life," she wrote in a blog post from her trip, titled "Been To Hell."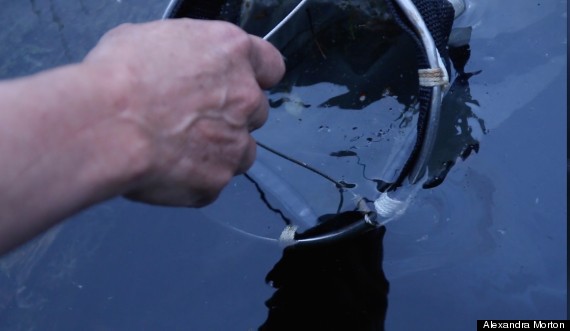 According to her blog, several people living along Quesnel Lake drew her attention to some oil-like film on the surface of the water. She said she "found it everywhere," including floating among the debris and juvenile fish as well as gathering along the rocks.
"It appeared as a sheen across the entire lake," she wrote in another blog post. "When you touch this film, it burns your skin like a jelly fish sting."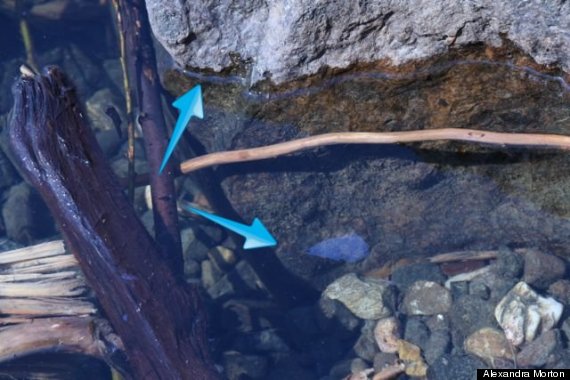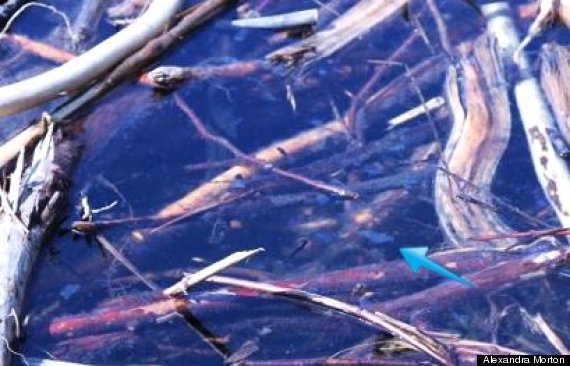 The tailings pond dam failed at the Mount Polley mine in early August, dumping millions of cubic metres of waste into local waterways.
An update by mine owner Imperial Metals showed the size of the spill to be almost 70 per cent bigger than the initial estimate by the provincial government, reported The Vancouver Sun on Wednesday.
Morton took samples of the blue film collected from Quesnel Lake to a lab, she said in another blog post, "but the blueness had vanished. The contents of the jar appeared as clear as the water of Quesnel Lake has always been, but then when the lid was turned there was the hiss of escaping gas." She has not updated her site with the results of her lab testing.
Morton has a bachelor of science degree from American University and an honourary science doctorate from B.C.'s Simon Fraser University, according to Vice Canada.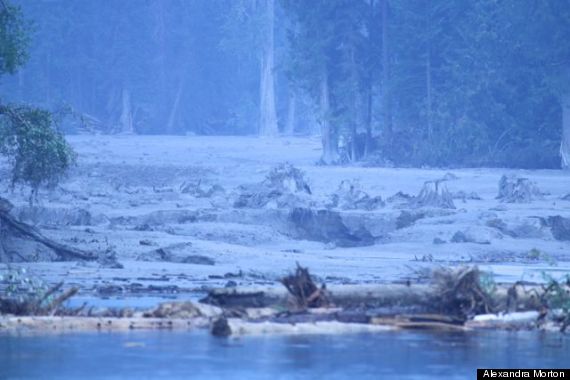 Morton says she's still waiting to hear back from provincial officials. However, a government memo states that a water sample was taken from Quesnel Lake on Aug. 12 in connection with the blue sheen seen along with floating woody debris.
"Upon visual inspection of the blue sheen, the sheen was poked with a stick to determine if natural or related to petroleum spills. The sheen broke apart and did not flow back together. This is indicative of plant or animal decomposition," wrote Deborah Epps, section head of provincial water quality. "If the sheen swirls immediately back together, it is from petroleum. Also there was no gas odours observed."
The Mount Polley spill has raised concerns over the state of the salmon who make their runs there every year. There have also been reports of fish skin peeling off, though that has not been confirmed as caused by contact with tailings waste.
The government has said it is the job of mine owner Imperial Metals to clean up the spill, and has ordered that all mines conduct safety inspections.
The B.C. government is still quality testing the water from Quesnel Lake and Quesnel River, saying in a Wednesday news release that water from the area is "consistent with previous results" and is still safe to drink.
At the end of August, the province said that elevated levels of copper, iron, manganese, arsenic, silver, selenium and vanadium were found but that the water also showed exceeded provincial guidelines before the spill.
With files from The Canadian Press
(H/T Vice Canada)