It was certainly a bizarre sight for transit riders in the Vancouver area as a Surrey man was arrested for allegedly printing counterfeit bills in public.
Gerald Doyle, 48, was reported to be standing over a printer plugged into an electrical outlet at the Surrey Central Bus Loop last Thursday evening, according to a Transit Police news release.
When officers arrived, they found a bag at his feet that had a piece of paper with $20 bills printed on it. After Doyle's arrest, they searched his bag and discovered over $1,000 worth of fake bills as well as "counterfeit paraphernalia."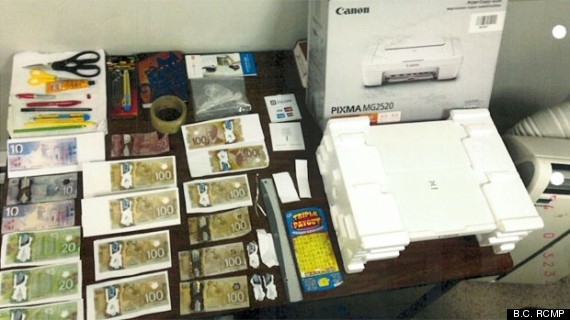 "There were people standing there laughing," Transit Police spokeswoman Anne Drennan told The Province. "It was so bizarre. There was this man standing there printing money. It was an unusual sight."
Doyle had been released earlier in August on a similar charge with conditions including not possessing knives or "items that could be used to create counterfeit currency," according to the release. Transit Police says several knives were also found in his bag.
Doyle has been charged with possession of counterfeit money, making counterfeit money, and possession of instruments used to make counterfeit money.
EARLIER ON HUFFPOST: