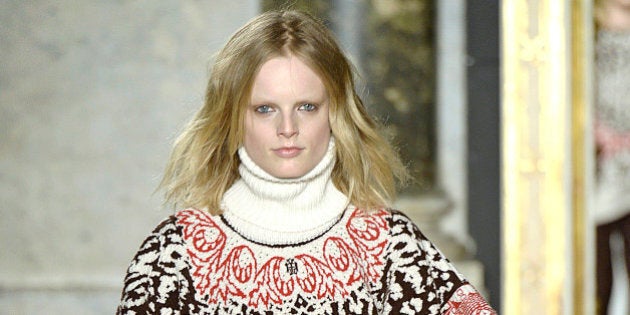 When it comes to fashion, fall is probably our favourite season -- we get to stock up on cozy sweaters, buy new boots, and fill our wardrobes with rich colours and fabrics.
And as with every new season comes the fall trends of 2014 (the best part!). This year, the fall runways were full of great styles that we can't wait to try out for ourselves. From head-to-toe knit ensembles to pops of electric blue and even some bad-ass bandanas, this season's trends are definitely eclectic.
So whether you're a minimalist or someone looking to make a bold statement, we can bet you'll find a style (or two, or three) to love this autumn.
And to make things a little easier for you, we've put together a list of some of the hottest styles of the season. Have a look for yourself!
(Story continues below slideshow)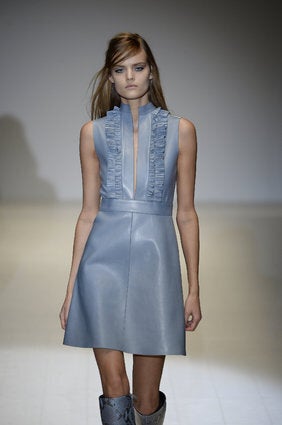 Fall 2014's Hottest Fashion Trends
The swingin' '60s are back with a vengeance this fall, and we couldn't be happier. Think sheath dresses, bold colours, and go-go boots, as see on the runways of Gucci, Louis Vuitton, and Valentino.
There's nothing cozier for fall/winter than a great knit sweater, especially in a home-y fair isle print (as seen at Pucci and Burberry). When we see these chunky sweaters, we can't help but imagine sitting by a fire in a chalet while drinking hot chocolate with tons of marshmallows. Is it winter yet?
Knits aren't just for sweaters anymore! According to designers like Marc Jacobs and Stella McCartney, this fall calls for comfy knits from head to toe. So, staying warm doesn't have to mean being bundled up in a blanket anymore (though blanket coats are also a thing).
Blue was definitely one of fall's standout colours. We saw it come down the runways in everything from navy, to powder (Gucci), to royal (Richard Nicoll), and we couldn't get enough. Thanks to the variety of shades, there's a perfect one for every gal's wardrobe.
5. Coloured Leather Skirts
Leather for fall is nothing new, but for the upcoming season, we saw the hide in almost all the colours of the rainbow. Louis Vuitton showed leather skirts in buttery orange while Richard Nicoll sent models down the runway in electric royal blue, proving that leather is so much more exciting than black and tan.
A great suit goes a long way, especially in a woman's wardrobe. This fall, we saw models stomp down the runways looking effortlessly chic in trousers and blazers at Isabel Marant and Hermes. Looks like it's time to take a cue from the boys and suit up!
The fall 2014 runways were full of outfits suitable for us fashionable ladies to get through anything -- even the zombie apocalypse -- in style. From skull print face bandanas (as seen at Marc by Marc Jacobs) to shin guard-like heels (a la Alexander Wang), the upcoming season kicks some serious ass.
Who doesn't love a sparkly shoe? They're the perfect accent to liven up any outfit, and they'll fare you well when the holiday season hits. Fall runways saw glittery on all types of shoes -- from the crystal encrusted boots at Alexander McQueen to the low-heeled Mary Janes at Saint Laurent, we want them all.
Much like leather, fur (faux and real) is a fall/winter staple, but when produced in fun colours (a la Prada) and prints (as seen at VFiles), the whole trend seems new again. This season's furry outerwear is sure to be a hit with the fashionable set.
Another statement colour for the season was red, in all shades. From the gorgeous gowns at Prabal Gurung to the chunky knits at Helmut Lang, we saw red in all forms. Try it this season as an accent colour, or go bold and wear it head-to-toe (which is what we'll be doing!).