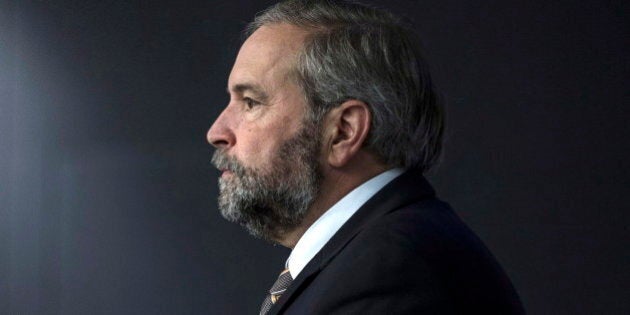 EDMONTON — As Canada's NDP heads to Edmonton this week hoping to build on its 2011 election momentum, the challenge the party faces is convincing voters – here and across the country – that if they want to defeat Stephen Harper's Conservatives, it is leader Thomas Muclair and the NDP who have the best chance of forming government and not the third-place Liberals and Justin Trudeau.
It may seem like an uphill climb, but NDP insiders say there are several reasons not to discount the party just yet.
"There is a current of change underfoot," Cheryl Meheden, the NDP candidate in Lethbridge, Alta., told The Huffington Post Canada in a phone interview.
"We've been so misrepresented for so long by the Conservatives," the college professor and owner of a specialty neighbourhood grocery store said, "[that] people are ready to do something different."
What Meheden hopes is that disgruntled Conservative voters and non-voters will show up to cast ballots for the NDP, considering it the only feasible option for preventing another four years of Tory government in Ottawa.
That seems to fly in face of biweekly national polls suggesting that it is not the NDP but the Liberals and Trudeau that most Canadians want to see replace Harper.
The Prime Minister himself appears consumed with his Liberal adversary. He devoted summer speeches to attacking Trudeau. The Tory fundraising machine is also blasting out emails as often as possible highlighting the potential threat that a Liberal majority might "undo everything we've worked so hard to achieve."
NDP Leader Thomas Mulcair is so rarely mentioned by the Tories that Canadians could be forgiven for thinking Trudeau leads the Official Opposition rather than the third-place Grits.
It's a source of much frustration among party staff.
Being seen as the only federal alternative to the Conservatives is key to winning the next election, NDP MLA and provincial leadership hopeful Rachel Notley told HuffPost.
"People in Alberta," she said, "are probably, in some ways, more strategic in their votes than in many other jurisdictions."
They have lived in a place dominated by the Tories for so long that they are looking to park their ballot with a party that can give them a new MP, she said.
"To be able to show that you are well placed to take that vote and convert it into electoral success, that is something that a lot of people in Alberta really do give a lot of consideration to."
Notley believes that neither the federal NDP nor the Liberals are in a position right now to make a convincing case that they are a better strategic choice.
Liberal strategists argue that momentum is on their side. They point to recent byelection results, in which the Grits dramatically increased their vote share and were competitive in areas unheard of previously, such as Fort McMurray, Alta., and Brandon, Man. Liberal candidate Adam Vaughan also defeated in the NDP in their Toronto stronghold of Trinity-Spadina this summer.
"We see a clear trend starting from the Calgary Centre byelection where we almost won that in 2012, and the last two byelections. We increased our vote fourfold in Macleod, [where] we had our best result since 1957, and, in FortMac, we haven't done so well since 1968," Brian Gold, the president of the Alberta-wing of the Liberal Party of Canada, told HuffPost.
"The momentum to me is clear that Albertans want another choice and the voice they want is Liberal," he added, unable to contain his smile.
The NDP, meanwhile, notes that in Alberta it is they who hold the only opposition seat: MP Linda Duncan's in Edmonton–Strathcona, which she won in 2008 over Conservative incumbent Rahim Jaffer.
Duncan is the first to admit that she won her riding by reaching out to Liberals, Greens and disaffected Conservatives who rallied behind her. But that type of support is less likely to happen again, with Liberals in the riding saying they plan to support their own candidate this time.
"Who knows what will happen in 2015?," she responded when asked for a prediction.
"Hey, I'll be glad to keep my seat. And I know my party will be glad to keep my seat, and my constituents will be happy if I keep my seat."
The NDP is using her seat as a beachhead on which to build a larger presence, especially in Edmonton where the provincial party holds four seats and earlier this summer ranked No. 1 in a public opinion survey with city voters.
The NDP believes it can win two federal seats here: Edmonton Griesbach and Edmonton Centre.
It is one of the reason why the NDP's 97-member caucus is meeting in Edmonton from Tuesday until Thursday. Those two ridings are also part of the Liberals' winning forecast and the reason their 37-member caucus met in Edmonton three weeks ago – to make the same sales pitch to voters in the area.
While the Grits also have their eye on a handful of seats in Calgary, the NDP has no expectations of making inroads in the province's oil town, insiders said. Instead, it hopes that Lethbridge, a college town with environmentally conscientious residents, might give them a chance.
"In Alberta, only New Democrats can beat Conservatives," NDP spokesman George Soule told HuffPost.
"If you look at the numbers, sure a lot of those Conservative seats were won by quite a large margin, but it was the New Democrats that came in second," he said.
A report by Elections Canada found that if the 2011 election results were transposed onto the electoral map that will be used in Alberta in 2015 – the addition of six new seats has shifted riding boundaries – the NDP would still only have one seat, but it would have 27 second-place finishes compared with five for the Liberals.
Aside from Edmonton–Strathcona, the NDP's second best result – a 5,681 vote split – would be in the Edmonton Griesbach riding, where Conservative incumbent Peter Goldring announced Monday that he will not run again. The party's third best option is a very close split in Edmonton Centre,where the Liberals would have garnered 23.7 per cent of the vote compared with 25.8 per cent for the NDP. The Conservative incumbent there – Laurie Hawn, who has also announced that he won't run again – would have earned 46.2 per cent of the vote.
The NDP's chances in Edmonton Centre, however, suffered a blow earlier this year when star candidate Lewis Cardinal announced that he was stepping aside for health and personal reasons. Now, New Democrats on the ground say it's the Liberals' race to lose.
"The Liberal candidate, Randy Boissonnault, has a lot more money and backing in that riding, he's very popular with centrist voters and people who are politically active there," NDP member Brent Epperson said.
Faced with such numbers, the NDP's political opponents are scratching their heads wondering why the party is spending time and money in Alberta for little gain.
"Why are they wasting their time in Edmonton?," a Conservative strategist told HuffPost. "That's ridiculous. It is a complete waste of resources. It makes no sense, they should be focusing on B.C., Saskatchewan, Quebec, Ontario and the Maritimes."
A Liberal strategist said he though the NDP was busy fighting the last election – something that suits his party just fine.
Goldring told HuffPost that the NDP shouldn't count their chickens before they hatch. The 2011 result wasn't because Albertans strongly supported the New Democrats, he said, it was just that the Liberals "fell apart."
In 2015, the political landscape will be different. Mulcair, a former Quebec Liberal cabinet minister with a quick temper, has replaced the affable Layton, while Trudeau, the likeable son of famous but polarizing prime minister Pierre Trudeau, has replaced snobbish professor Michael Ignatieff.
Although, Mulcair has an impressive résumé, many New Democrats are worried Albertans know too little about him.
"People who are politically active know who he is, but I'm not convinced that he is well liked by progressives in Alberta," said Epperson, also a PhD student at the University of Alberta. "The few times I've had the opportunity to speak with him, I've been impressed by his level of knowledge, his ability to have detailed conversation about different policy areas and his understanding of the issues, so I don't get it…. But it's just a common complaint you hear. They see him as more abrasive and see Trudeau as more approachable, more personable."
"Even people who are provincially NDPers are on the fence federally," Epperson added.
"People who are left-leaning with their politics and are most concerned with getting Stephen Harper out of office, a lot of them say that Trudeau has a better chance [of forming government] – that is not my opinion; I actually have a different view – but I would say that is very common here."
Mulcair's initial stand on the Israeli-Gaza conflict also earned him few friends in Edmonton's NDP community over the summer. Several New Democrats told HuffPost that they were dismayed to hear the NDP leader throw his support behind Israel. Notley told HuffPost that she would have been concerned that if Mulcair had not pretty significantly moved his position – after the membership made its views known – it could have hurt the party and turned away supporters and volunteers.
"My perception is that Mulcair's position has evolved over the course of the summer, and it may not be enough yet to completely undo some of the frustration but I think it has gone a long way," she said. "He is aware of the problem and has been taking steps to deal with it. Maybe more has to be done."
Getting Mulcair better known is "the next step" and one that's "going to take a lot of hard work," said Bradley Lafortune, vice-president of the Edmonton Centre riding association.
However, Soule, the NDP spokesman, is undeterred.
"People are already seeing us as the alternative, and we just need to continue to build on that," he said. "We are more than a year away from the next election. A lot can happen."
Behind the scenes, the party has done a lot of work to identify and solidify its support. Working with strategists from U.S. President Barack Obama's campaigns, the NDP has changed the way it communicates and engages with Canadians. Candidates, volunteers and would-be candidates are already knocking on doors trying to identify their vote and make connections with Canadian voters.
"We have been really focused on our ground game and door knocking several times a week in places like Griesbach, Edmonton Centre and Strathcona," Lafortune said. "I think our chances are good if we work hard."
Edmonton Griesbach candidate Janis Irwin has been knocking on thousands of doors telling Liberal and Green voters that if they have the same goal of defeating the Conservative party, "we need to unite behind the party and the candidate that can do so – and obviously I believe that is myself and in the NDP."
The riding Irwin wants to represent, for example, encompases the constituencies of three NDP MLAs.
"People are used to having New Democratic representation in the neighbourhood," she said.
Locally, the federal NDP benefits from a well-developed provincial ground game and a current provincial party leadership race that is generating a lot of excitement.
NDP members who signed up to vote in the provincial leadership race are automatically federal party members and are now part of Ottawa's databank of potential financial donors and supporters.
The Progressive Conservatives' spending scandal has also given the NDP momentum, Irwin said. "Not everybody understands the difference between the provincial and federal side of things."
It is very important for the party to position itself as the alternative to the Conservatives, Lafortune said, because on the doorstep what people say they want is a strong credible alternative to the Harper government.
"For a lot of people who will never become members of a political party, that is the No. 1 reason they will be supporting one candidate over another. And so it is fundamentally important for the NDP."
New Democrats know that the longer Trudeau rides high in the polls, the tougher their argument that they are the feasible alternative becomes.
In Edmonton, the party will will start to draw out comparisons between their leader and the less politically experienced Trudeau.
"Justin Trudeau may be friendly appearing," Notley said, "but strength and competence are not two characteristics that frankly he projects very effectively."
There is a lot of smoke and mirror propelling the Liberals right now, she said, adding the NDP remains the only party that wants to implement a progressive agenda.
"Whether [Trudeau] flames-out or fails to convince people that he has the vision, the plan and the backbone to implement it…There is going to be a question of who can we actually feel secure with."
Mulcair may not be well-known, she added, but insists that that is not particularly a problem. "There is no question Jack was a bonus to the party in Alberta … but Jack didn't start out being a bonus."
"Mulcair is still fairly early in his career as leader of the party," she said. His "tremendous depth and gravitas" will ultimately assist him in getting the support of voters, she added.
In order to beef up the image the NDP wants to project – that of a disciplined and competent party led with an experienced leader who takes strong policy stands, Mulcair told the Canadian Press that he plans to unveil "some very concrete" proposals on child care, infrastructure investment, health-care funding and re-instituting a federal minimum wage, among other issues.
The NDP hopes that this will be the beginning in defining itself as a serious contender and the Liberals as a party that will try to be everything to everybody but in the end be nothing to anybody.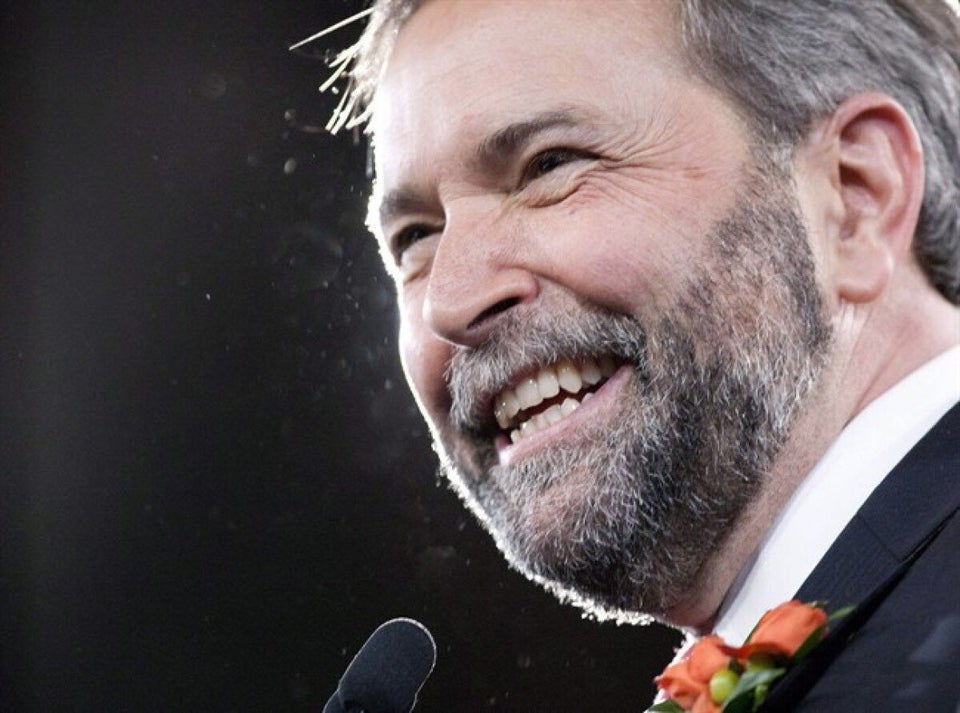 10 Little-Known Mulcair Facts