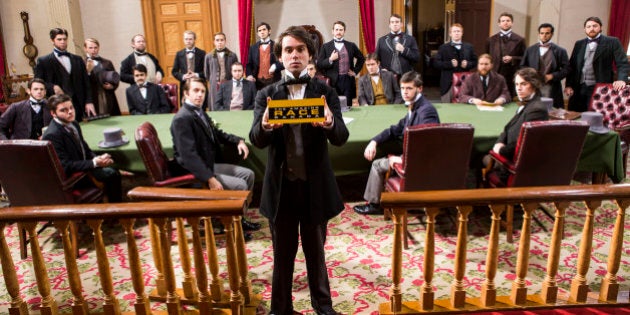 WARNING: Spoiler Alert! Do not read on unless you've seen "Amazing Race Canada" Season 2, Episode 10. Unless you like spoilers, then go right ahead!
Leave it to Ryan and Rob to ask the question everybody's thinking: "How hard can it be to find three lost bottles in a pile of crap?"
OK, so they were talking about their steaming Speed Bump, except their query can also be used as a twisted analogy to figure out which team will make it to the "Amazing Race Canada" finals in its sophomore slump season. With all of the jockeying for first, which pair will come out on top?
Last year, the "Ul-tim-ate" father-son team of Tim Sr. and Tim Jr. won "Amazing Race Canada," despite two last-place berths in non-elimination legs. Ryan and Rob have the same record so far. Now, the bartenders have shown the ferocity and determination needed to win with their laser-focus, and they could sneak their way into the final three. Plus, as Ryan himself said: "Surviving cancer has told me I can get through anything."
The teams flew to Charlottetown for a spin in P.E.I., starting with some harness racing. Each duo assumed the roles of driver and horse at the Red Shores Racetrack, and were tasked with running two laps around the circuit, complete with a veteran play-by-play announcer. Without him, or the help of the "Amazing Race Canada" "Currently in..." place identifiers, how else would we know that Ryan and Rob could outrun the other teams? Listening in, Pete informs us Mickey has yet another obscure skill -- he was a track star in high school, and is a "beautiful blonde stallion."
Then it was off to Province House, where a Roadblock celebrated the sesquicentennial (150 years) anniversary of the 1864 Charlottetown Conference and the founding fathers involved in the birthplace of Confederation. Cleverly asking, "Who's your daddy?" one teammate was instructed to identify the VIPs who attended the event after asking "local patrons" for information. Gotta love actors in historical garb; a gig like this is Christmas morning for them. Unlike other Roadblocks, which required up to 22 km of mountain biking, this one moved rather swiftly, and racers were rewarded with a clue from Sir John A. MacDonald himself (or an actor who remotely looked like the former PM).
It was here where Alain and Audrey started to slow down. Bickering in French, Audrey expressed her annoyance about her unsolicited performance critiques to her newly-minted fiancé, saying "Whenever I make a mistake, you get super mad." But as the teams moved on to the Detour, their squabbling continued. Forced to choose between "Mass" (estimating how many pounds of potatoes are in a warehouse), or "Mussels" (stripping 1,800 pounds of mussels from socks), they aimed to pull a mussel. Meanwhile, Ryan and Rob quickly completed their "number two" moonshine and manure Speed Bump, and were hot on their tails. As the freshly-engaged couple spent more time fighting than concentrating, the Vancouver bros seized the opportunity to jump ahead, and make their way to the mat, forcing Alain and Audrey's elimination.
But the battle for first and second place was just as cutthroat. Sukhi and Jinder, the "Amazing Race Canada" Season 2 mosquitoes, have spent the entire race asking for help. In Macau, they begged. Yet, when Natalie and Meaghan asked for some simple help with directions, they pointed them in the opposite path. Soon after, the Olympians realized their error, and finished in second place. Annoyed, the pair blamed their finish on the reviled siblings.
"They tried to point us in the wrong direction on the road and I just think that there's a right way to win and a wrong way to win," said Meaghan.
"You're just mad because you're in second," replied Jinder, with a laugh.
"We're not mad because we're in second," answered Meaghan. "If you guys want to play the game that way, that's totally fine."
Totally fine, sure, but it's messing with their motivation and composure. If Natalie and Meaghan are losing sight of the finish line, and Sukhi and Jinder find their comeuppance, it could leave an opening for either Ryan and Rob or Mickey and Pete to race straight into first place.
Next up — more Maritime madness, as the teams trek to New Brunswick!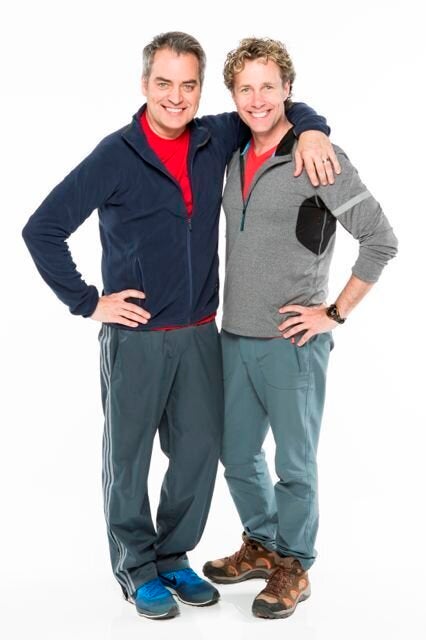 'Amazing Race Canada' Season 2 Teams