If it weren't for the snow, you'd think a hurricane had just hit Calgary.
Hundreds of trees in the western city snapped and buckled under the weight of Wednesday's heavy snow, creating slaloms for motorist trying to avoid huge limbs and debris. Other roads were blocked entirely.
Several trees were entirely uprooted, while others caused power outages after their branches broke and tore down electricity lines.
Crescent Heights resident Rebecca Kelly shared a video to Facebook of the destruction in her neighbourhood.
The Calgary Zoo even went so far as to close for the day, citing the proximity of trees to pedestrian pathways as a hazard.
Mayor Naheed Nenshi called the loss of mature trees a shame, and encouraged people to stagger their commute home in order to reduce congestion on the roads.
Ken Uzeloc, director of the Calgary Emergency Management Agency, asked Calgarians to avoid moving debris themselves and to hang tight for crews to get to it.
"We know that some of you want to clear the debris," he told the Calgary Herald.
"If you don't have the right equipment and the right type of training to do that, leave that for now. Take care of that later. If there are city trees that are down, call 311."
The City of Calgary confirmed they have received approximately 900 calls about fallen trees, so far.
More than 20 centimeters of snow has fallen on Calgary in the last 24 hours. Much of that snow is expected to melt within the next day, as Environment Canada forecasts highs of 10 C for Thursday.
Check out some of the photos and videos of the downed trees posted to social media: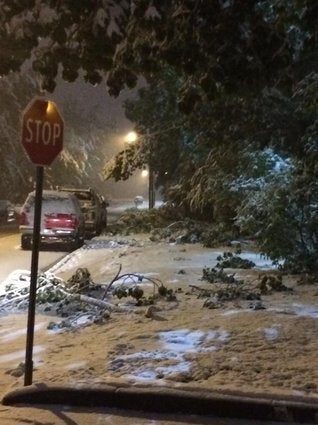 Calgary Trees Downed During September Storm
With files from the Canadian Press