"Cleanup from this will take an amount of time measured in days if not in weeks," Mayor Naheed Nenshi told reporters Wednesday, speaking from the city's Emergency Operations Centre.
"This is not something that will be cleaned up by the next garbage pickup."
Officials at the City of Calgary say they received 15,500 calls to 311 and 6,300 calls to 911.
Emergency responders and utility workers were out through the night, restoring power to thousands of Calgary homes, after power lines were downed by buckling tree branches.
Laurie Newsham, an expert arborist and instructor at Olds College, told the Calgary Sun the loss of tree life is devastating, but may not be fully realized until down the road.
"We may not see the repercussions of this until next spring or next summer, when we'd expect full leaf out, and instead we'll have trees dead from winter kill, and those that just don't have the energy to come back," he told the Sun.
"The trees have to recover from all that damage, and just cutting off the branch that's broken and hanging is not recovery," he continued, adding that the trees are just coming into their dormancy period — one of the worst possible times for branch loss to happen.
Story continues after the slideshow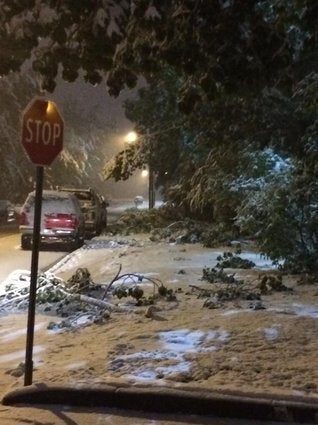 Calgary Trees Downed During September Storm
"The issue here isn't so much that the trees haven't been trimmed, it's just the severity and extent of the damage we are dealing with," president and chief executive Gianna Manes told the Calgary Herald.
The city urges residents with downed branches in alleys and on sidewalks to call 311, who will dispatch crews to clean up the debris in due course.
The city also says it will wave tipping fees at landfills for Calgarians wanting to dispose of debris themselves. Residents are asked not to dispose of branches in any of the city recycling, organics or waste bins.